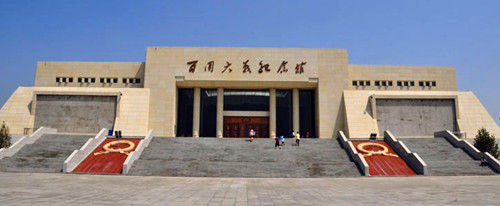 Datong Mass Graves Memorial Hall
The coal pit of the Mass Graves Memorial Hall in Datong, Shanxi province, is a key cultural relic and a space for patriotism.
The memorial hall has a rich historical background. During the Second World War, Japanese invaders occupied coalmines in Datong, both plundering their resources and torturing the miners, whose bodies were then thrown into the wild or down wells, resulting in more than 20 mass graves. One of these horrible sites is located in the South Pit of Meiyukou, a large-scale mass grave, and the memorial hall was built above it.
The museum space is 337,000 square meters and is organized by themed zones dedicated to the misery of Datong coal miners, the history of coal mining and important cultural relics. To complete the experience, the museum also includes a multimedia center and a hall devoted to mourning the victims.
A metal plate on the entryway's floor reading "1937-1945" serves as a reminder of the eight-year Anti-Japanese War and the suffering the Datong miners experienced during that period. A huge sculpture with the numbers "14,000,000" and "60,000" also makes a strong visual impact—Japanese invaders robbed 14 million tons of coal and caused the death of 60,000 miners.
The museum hosts a rich collection of old photographs and objects, but also reveals history through modern technology. Visitors come away with a vivid image of Japanese crimes during World War II in Datong.