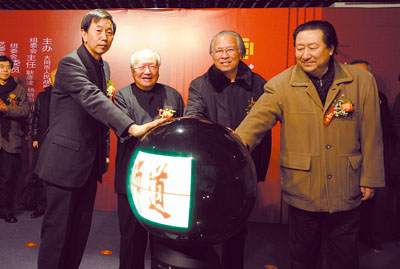 There was an art exhibition from the Chinese National Academy of Painting's sculpture department and an inaugural ceremony for the Chinese Sculpture Museum held jointly at the Heyang Art Gallery and the North Wall of the city of Datong, Shanxi province, on Jan 12.
On hand for the ceremony were Qian Shaowu, head of the department and a celebrated artist, and Geng Yanbo, Datong's mayor.
This exhibition was sponsored by the municipal government, Chinese National Academy of Painting, and Datong's cultural relics bureau, with 158 works of art, from several dozen artists, on display.
The Chinese Sculpture Museum is located in the Wengcheng district of Datong's North Wall area and is reported to be China's first professional theme museum. Its main part occupies a 32,000-square-meter two-story building, with a 26,000-sq-m exhibition area. The first exhibition has 519 works of art on display, including some by celebrated sculptors and the annual exhibition of graduated art students.
Qian said he appreciated Datong's cultural atmosphere and preservation of relics and its determination to improve its cultural atmosphere and display its ancient culture. He also praised its effort in establishing the museum.
Geng congratulated the city for the exhibition and inauguration ceremony and said that it has had several culture events with support from the Chinese National Academy of Painting, the Central Academy of Fine Arts, and many celebrated artists.
He said he also appreciated Qian's presence at the ceremony and his suggestions on cultural development, which will help the culture industry in Datong. He went on saying that usine the old city wall as a place to exhibit art showed a perfect sense of integration of form and content and that he is confident in the sculpture museum's future and its contribution to China's culture industry.
Edited by Zhou Yuanyuan and Roger Bradshaw