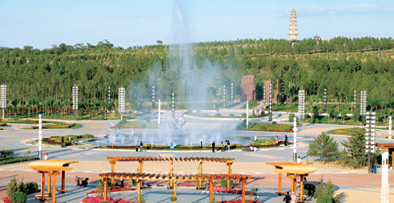 Dongshan Forest Park is located in the scenic Dongshan mountain area in the northeast of Zuoyun county. It covers an area of 1,031 mu (68.7 hectares), stretching 1,300 meters east to west and 530 meters south to north.
The construction of Dongshan Forest Park started in 2004 and was completed in October 2008. The project cost 60.43 million yuan ($9.71 million). It has now become an integrated place for fitness, leisure, sightseeing and entertainment.
In 2007, the new county Party committee and new administration of Zuoyun county sought to "implement the Scientific Outlook on Development theory to build a harmonious new Zuoyun". The efforts also planned to reinvest in the construction of Dongshan according to its environment and overall landscape. In order to improve the appearance of Zuoyun county and the living environment, the construction focused on an overall layout based on "transforming the south, extending the east, reorganizing the west and expanding the north". At the top of the park, facilities like a skate park, stadium, children's playground and south-north square have been built. A 458,700-square-meter green area and 18,400-square-meter hard landscape have also been completed.
At the edges of the forest park, a comprehensive square, large fountain, pedestrian space and pavilions have been built without altering the forest's original topography and landform. The entire construction has resulted in 27,800 square meters of movable platforms, 8,300 square meters of hardened road, and an additional 5,981 arbors and 8,381 shrubs. The area also includes 3,251 square meters of flowers,ground cover, and 119,000 square meters of artificial afforestation area. At the same time, the city has also constructed a 545-meter long, 32-meter wide road in the north.