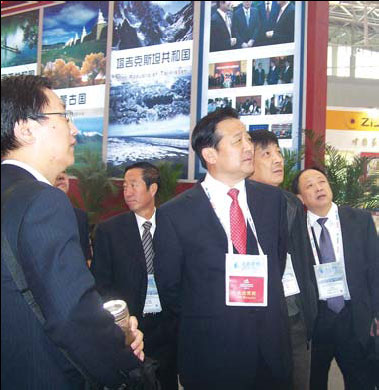 Zhang Youxi (center), board chairman of the Datong Coal Mine Group, gets a look at the ongoing China Mining Congress and Expo in Tianjin. Zhang Guicai / For China Daily
The Datong Coal Mine Group in Shanxi province in northern China, a major hard coal producer, will also be a giant in energy saving and environmentally friendly development, the company's board chairman recently said.
"Developing a recycling economic model is the optimal way to sustain development at coalmines around the world - and green exploration is the principle we need," said Zhang Youxi, board chairman of the Datong Coal Mine Group.
Zhang spoke with China Daily on Monday at the China Mining Congress and Expo, in Tianjin, where he also said that energy-saving, environmentally friendly development depends on science and technology as well.
This shows the advantages of a large group, with its technological and professional experience, as well as equipment and management, he said, explaining that scarce resources in a coal seam need to be finely and carefully mined.
The group's Tashan mine, in the eastern part of the Datong Coal Field, he said, by way of example, is taking the lead in environmentally friendly development with its Tashan Circular Economy Park, and its work toward clean coal production.
In practical terms, this means that the washed coal is transported by a special railway, residual coal pieces are used to produce methanol, coal rubble is separated and taken to a factory to make bricks, and low-value coal is used by the power plant to generate electricity.