Taiyuan Iron and Steel Group
( www.chinadaily.com.cn )
Updated: 2012-03-12
The Taiyuan Iron and Steel (Group) Co Ltd is a very large complex mainly producing steel plate. To date, it has developed into China's largest stainless steel producer. In 2005, its output was 5.39 million tons of steel, 925,500 tons of stainless steel, with sales of 36.08 billion yuan ($5.72 billion), and it ranked among the top eight companies in the world.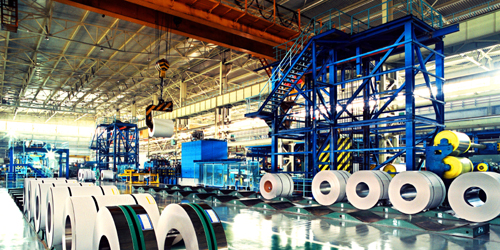 It uses advanced technology and equipment in the exploiting and processing of raw materials such as iron ore, and in smelting, pressure processing, and manufacturing of metallurgical equipment and spare parts. Its main products include stainless steel, cold rolled silicon-steel sheet, hot rolled plate, train axle steel, alloy die steel, and steel for military projects.
The company has vigorously promoted international operations and has trade ties with more than 30 countries, including the United States, Germany, France, Britain, Japan, South Korea, and Australia. It has also expanded its technological exchanges and cooperation and global purchases of strategic resources. In 2005, its stainless steel exports increased 25.32 percent, over the previous year.
The company is also increasing its strategy for talented personnel, with Project 515, along with its human resources development and talented-personnel contribution project, while inspiring staff members and improving their quality.
The company owns a Sate-level technology center and has a strong stainless steel R&D team. In 2005, it's ranked 11th among the 332 nationally recognized enterprise technology centers.
It has a sustainable development strategy that follows a new, industrialized development road and the ISO14001 standard. It has made greater efforts to save water and energy, reduce consumption and pollution, and plant more trees to beautify the environment. It was recognized as an advanced collective of Shanxi province for its environmental-protection efforts and is moving towards becoming an international, first-class, ecologically friendly, garden-based enterprise.
Under the 11th Five-year Plan (2006-2010), the company continued its reforms and opened wider to the outside world, while increasing technological, management, and system innovations. It plans to further improve its executives, make its operations flawless, speed up development, sharpen its competitive edge, clean up its production, and reach its strategic goals. By the end of 2010, the company is expected have annual sales of 80-100 billion yuan ($12.68-15.85 billion) and find a place among the world's top 500 companies.