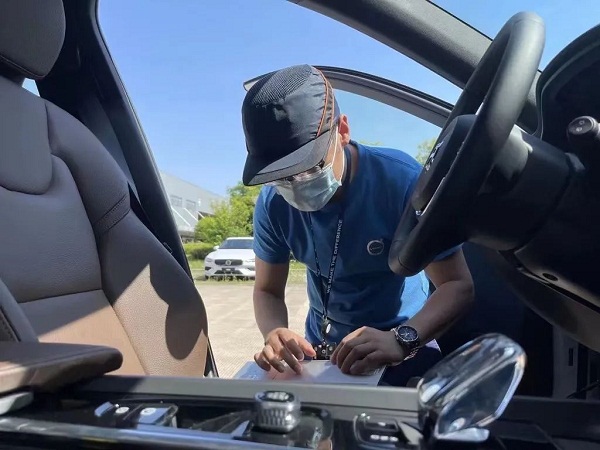 A Volvo R&D engineer conducts on-the-spot testing for the company's new vehicle. [Photo/jiading.gov.cn]
Since Shanghai has resumed normal operations, the upstream and downstream enterprises of the new energy vehicle (NEV) industry chain based in Jiading Industrial Zone have sped up their recovery, spanning the release and listing of new vehicles, and improving production capacity and the innovation and development of new products.
"As the on-the-spot testing is of great importance, I returned to work among the first batch of employees," said Li Guoqing, a research and development engineer of the Volvo Asia-Pacific Headquarters, which is located in Jiading district.
More than 40 R&D technicians stationed at the testing spot in Jiading carry out data access and performance tests for Volvo's new NEVs' listings on the market.
On June 5, Volvo's new electric model XC40 was listed on the market.
In the next phase, Volvo will continue to push forward the company's electrification transformation and sustainable development to ensure the production and launch of a series of new pure electric models, and strive to become a pure electric luxury car enterprise by 2030, and a global demonstration climate zero-load enterprise by 2040.
Electric vehicle components and parts enterprises are also bolstering their efforts to develop alongside Volvo.
For example, an electric vehicle company based at the University of Chinese Academy of Sciences, which specializes in independent R&D, production and sales of key components such as new energy vehicle control systems, powertrain and control systems, and battery management systems, has had 40 workers under closed-loop management since May 24 and all of the 115 workers have returned to work in June.