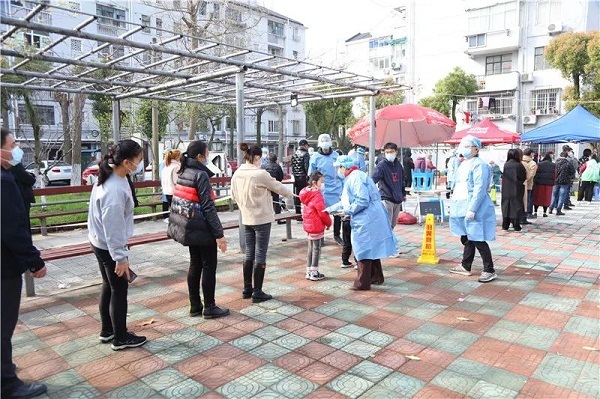 Residents wait in a line to take a nucleic acid test in a community in Jiading district. [Photo/WeChat account: sh-jiading]
On March 18, Shanghai's Jiading district began a new round of mass nucleic acid testing in accordance with municipal standards and procedures.
Residents of a neighborhood in Jiading district follow medical workers' and volunteers' instructions to form 20-person groups. They scan the codes to ensure that they are eligible for the test and line up in a timely manner for the test.
Sampling in groups can reduce gatherings and improve efficiency, said a resident surnamed Tan, who was satisfied with community's arrangement.
As over 60 percent of the residents in this community are aged above 69, the community workers prepared printed nucleic acid test registration codes for them in advance.
"We arrange the batch sampling time for each building the night before and inform each household through the building managers according to the actual sampling progress at the testing sites," said Xu Dongdong, a community worker in Jiading district. They will check each household afterwards to make sure that everyone has taken the test.