Summer holidays far from fun for migrant children
By He Dan (chinadaily.com.cn)
Updated: 2013-08-20
Zhang Xinlin's excitement about spending the summer with his parents in Beijing quickly disappeared when he realized he and his elder sister could not go anywhere, and had to settle for playing cards inside the family's rented apartment every day.
The siblings arrived in Dongshagezhuang, a large community dominated by migrant workers on the outskirts of Beijing, in early July.
"We're not allowed to go out to play because our parents worry about there being bad people on the streets," the 7-year-old said.
Zhang is from a village in Huanggang, Hubei province, and for most of his life has been in the care of his grandfather.
"It's so boring here," said Ni Junhao, 10, who was visiting his electrician father in the community, his third consecutive summer in Beijing.
He complained that, despite being in the capital for more than 40 days, he had spent only one with his father, when they went to play bumper cars in Chaoyang Park. He will return home to his village in Nantong, Jiangsu province, in mid-August.
Nearby, Hu Tian and her sister said their only pastimes are homework and watching their mother play mahjong.
Stories of boredom are common among rural children spending their summer vacations with parents in cities nationwide. One organization that attempts to relieve the boredom for migrant children in Dongshagezhuang is the Mulan Activity Center.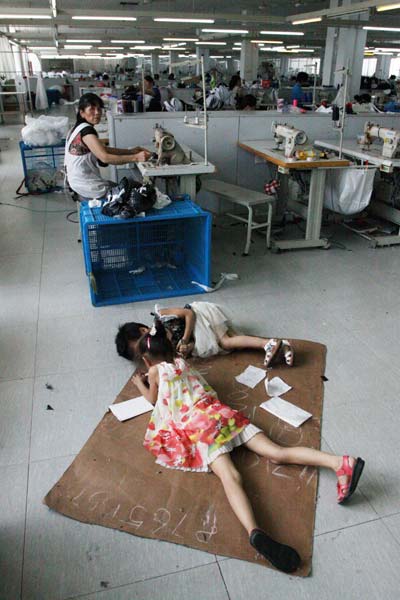 Migrant workers' children play on the ground as their parents work nearby at a plant in Jiashan county, Zhejiang province, July 17. [Photo by Hu Lingxiang/Asianewsphoto]
"Most migrant workers rent rooms of 10 to 20 square meters, where they eat and sleep, but children are vivacious and energetic, so it's really painful for them to live in such cramped conditions," founder Qi Lixia said.
Located in a traditional courtyard home, and with room for a maximum of 40 children, Mulan Activity Center opens from 8 am to 8 pm six days a week. Children can read books, play chess and darts, enjoy sports facilities or surf the Internet.