Yunxian turquoise carving
Updated: 2011-12-13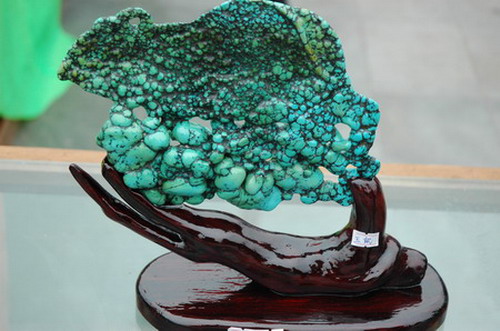 Introduction:
Turquoise is one of the rare gems in the world. It is aquamarine and was a tribute to the royal families in the Qing Dynasty. Beijing Palace Museum alone collects about 10,000 turquoises. In foreign countries, it is also called turkey stone. Its color is rare among natural stones, so it is regarded as gem or semi-gem.
Features:
Turquoise is fine, smooth, glossy, striking and bright. It is a famous high-grade gem in China. In fact, it is phosphate containing copper and aluminum and a hypergenic mineral. It is often found in the shape of grape or kidney and in a size of a walnut or an apple. Large stones are rare to find and its reserve in the world are very low. It has bright colors, mostly sky blue, sea blue, azure, turquoise, dark green, emerald green and purple green. Sky blue and azure turquoises are of top grade and are very rare. Turquoise is brittle, hard, moist and clean. In geology, turquoise is called a mineral and the mineral crystal is scattered in various kinds of rocks, making the search and mining extremely difficult. Turquoise ore may be carved into necklaces, rings, brooches, balls, earrings and hairpins. The larger stones may be carved into beautiful arts and craft products. The stones with inferior quality may be made into the pigment of traditional Chinese painting.
Development:
Yunxian Turquoise Arts & Crafts Factory is China's largest enterprise which processes art and craft products from the self-produced natural and high-quality turquoise. The products are sold to tens of countries and regions, including the United States, India, Japan, Nepal, Singapore as well as Taiwan and Hong Kong.