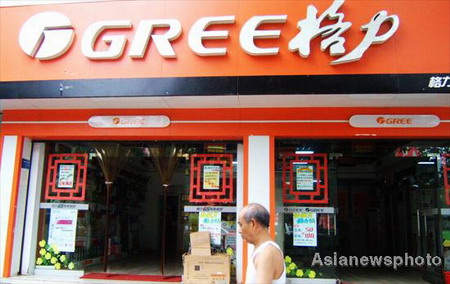 A man passes by a Gree sales outlet in Yichang, Hubei province. [Photo/Asianewsphoto]

Gree Electric Appliances Inc, China's largest air-conditioner maker, may build a US plant to raise its international profile and compete against local peers, Bloomberg reported on Dec 2.

Gree currently makes its products in China, Brazil, Pakistan and Vietnam. It's conducting studies and may set up a factory in the US within three years as sales rise, Gree President Dong Mingzhu said.

"Many Chinese companies are afraid of setting up factories in the US," Dong, 56, said in a Nov 28 interview at the company's headquarters in the southern Chinese city of Zhuhai. "As a company with high-end technology, we think it's worth exploring if we want to become a global company."

"If Gree wishes to continue its growth, they will have to expand into markets outside China," said Chen Jun, a Beijing- based analyst at research company All View Consulting. "Countries in North America and Europe will generate higher profit when their economies recover from recession."

US sales for Gree have risen an average 20 percent over the past five years, Dong said.

'Certain level'

Related readings:

 Businesswomen show mettle in man's world


 Low carbon goal, development not at odds

 China's Hisense expects 7% increase in sales revenue this year


 Lingering heatwave hits people's daily life

"Demand in the US has reached a certain level," said Dong, named among China's 40 most influential people in 2009 by Businessweek. "Although manufacturing costs are relatively high in the US, especially labor costs, we believe there are other favorable factors, such as policy and infrastructure."

Gree's sales have expanded for five consecutive quarters, surging 81 percent in the three months ended September, according to data compiled by Bloomberg. Sales had declined for three quarters through June 2009.

Overseas sales accounted for 15 percent of total revenue in 2009, compared with 24 percent in the previous year, according to Bloomberg data.

In the US, Gree will compete against Carrier, the world's largest maker of air conditioners with 2009 sales of $11.4 billion. Osaka-based Daikin Industries Ltd, the world's second- largest air-conditioner maker, got more than 60 percent of its sales last fiscal year from outside Japan, with the Americas region accounting for 11 percent of total revenue.

Largest distributor

Gree is the biggest distributor of air conditioners in China with 27.5 percent of the market, according to research by Euromonitor International. It's followed by GD Midea with 21 percent and Haier with 11.1 percent.

It third-quarter net income surged 73 percent from a year earlier to 1.32 billion yuan ($199 million), boosted by government subsidies to consumers and increased exports, the company said on Oct 21. Sales reached 44.2 billion yuan in the first nine months, exceeding the total for 2009.

Fourth-quarter results would be "even better," said Dong. Sales of central air conditioners, used mainly in commercial and office buildings and which provide wider margins than household models, may account for 50 percent of total sales in three to four years from the current 15 percent, she said.

"I think Gree will see its name shine not just in China, but also globally in five years," said Dong.