Typhoon Dujuan wreaks havoc in Fujian
( Xinhua )
Updated: 2015-09-30
FUZHOU - Typhoon Dujuan, the 21st typhoon this year, made landfall in east China's Fujian province on Tuesday morning.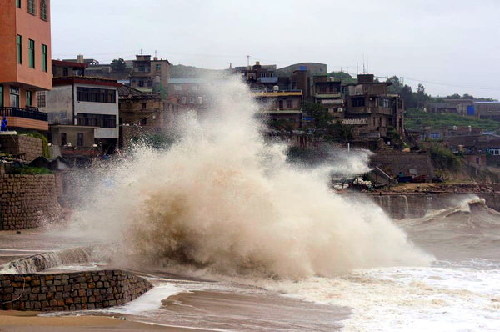 Typhoon Dujuan whips up big waves at a village in Lianjiang county, Fujian province, Sept 29. The typhoon made landfall in Putian city on Tuesday morning, bringing torrential rains and gales to middle and central Fujian, and causing transportation cancelations and school closures. [Photo/Xinhua]
The storm hit the coastal city of Putian at around 8:50 am, packing winds of up to 33 meters per second, said the Fujian Meteorological Service.
On Monday, all 32,000 fishing boats returned to harbor and around 160,000 people returned to shore.
Between 8 am Monday and 7 a.m. Tuesday, heavy rain swept Fujian with maximum precipitation of 162 mm in Minhou County of Fuzhou, the provincial capital. More than 370,000 families suffered a blackout as of 6 am, the office said.
The airports in the cities of Fuzhou and Jinjiang have canceled 103 flights since Monday. Xiamen Ferry Company also canceled all ferries on Tuesday.
In cities of Fuzhou, Ningde, Putian and Zhangzhou, schools were suspended. More than 200 high-speed trains to and from the province will be suspended.
A spokesperson from Xiamen's maritime fisheries service said the typhoon coinciding with astronomical tide caused severe flooding on Monday night and Tuesday morning.
The typhoon has also brought gales, torrential rain and high waves to neighboring Zhejiang Province.
According to the provincial flood control and drought relief headquarters, more than 320,000 people in eight cities have been evacuated and more than 25,000 ships had returned to harbor as of 7 a.m. Tuesday.
In Wenzhou City, schools were suspended on Tuesday.
Dujuan is moving northwest at a weakening speed of 25 km per hour. It is forecast to reach Jiangxi Province Tuesday night.