61 bullet trains cancelled as Dujuan approaches Fujian
( chinadaily.com.cn )
Updated: 2015-09-28
Typhoon Dujuan picked up strength Sunday as it headed toward Taiwan, prompting warnings of strong winds and torrential rain.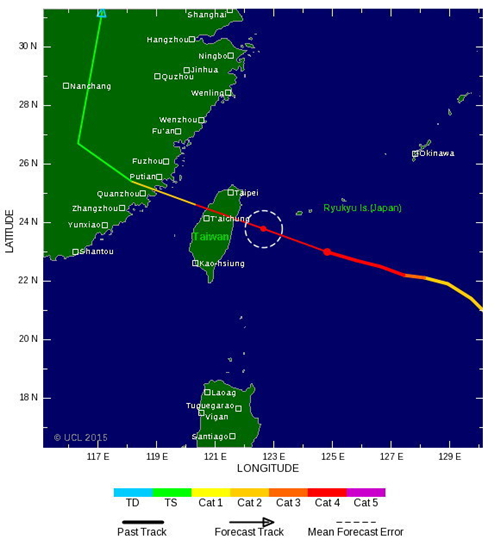 As of 9:00 a.m. local time on Monday, Dujuan was centered 250 kilometers east-southeast of Yilan County, moving west-northwest at 9 mph (14 kph), according to Taiwan's Central Weather Bureau.
The typhoon is expected to make landfall between Hualien and Yilan in northern Taiwan on Monday evening after affecting Japan's southern Ryukyu islands. The weather bureau issued a land warning, advising people in northern and eastern Taiwan to be prepared for heavy rain.
Dujuan was then forecast to move across the Taiwan Strait and make its second landfall in coastal area between Fujian's Lianjiang and Longhai on Tuesday morning or noon.
Xiamen is expected to see torrential rain and high waves in coastal areas on Tuesday.
The typhoon-induced storm is expected to coincide with an astronomical high tide that will occur in the early Tuesday morning. The tide may cause the seawater to backflow and flood streets in some coastal areas and low-lying parts of Xiamen such as No.1 Port, Shengping Road, Minzu Road, Shapowei, Baicheng Beach and Gulangyu Piano Wharf, according to the Xiamen meteorological observatory.
In addition, 61 bullet trains in Xiamen will be suspended on Tuesday, according to Nanchang Railway Bureau.
Xiamen North – Shanghai: D3203, D3204, D3207, D3208, D3209, D3210, D3119, D3120, D379, D378, D3201, D3202, D3205, D3206
Xiamen North – Nanjing South: D3213, D3214
Xiamen North – Ningbo: D3216, D3215, D3306, D3305, D3211, D3212, D3220, D3219
Xiamen North- Hangzhou East: D3218, D3217, D377, D380, D3232, D3231
Xiamen- Fuding: D6333, D6332
Xiamen North- Fuding: D6331, D6334
Fuzhou – Shanghai: D3101, D3102
Fuzhou South – Shanghai" D3103, D3104, D381, D382
Fuzhou – Wenzhou South: D3109, D3110
Fuzhou – Xiamen: D6201, D6228
Fuzhou- Xiamen North: D6203, D6230, D6209, D6222, D6213
Fuzhou South- Xiamen North: D6205, D6232, D6211, D6236
Fuzhou – Fuding: D6335, D6336, D6337, D6338
Fuzhou – Longyan: D6403/6, D6443/2
Fuzhou- Beijing South: G56, G55