Hefei-Fuzhou HSR roars into operation
( chinadaily.com.cn )
Updated: 2015-06-29
The G2626 train whistled and slowly drove out of the Fuzhou Railway Station at 8:57 on Sunday, marking the inauguration of the Hefei-Fuzhou (Hefu in short) High-speed Railway (HSR).
It terminated at Hefei South Station about four hours later, capping off the 852-km ride that sent 556 passengers from East China's Fujian province to Anhui province.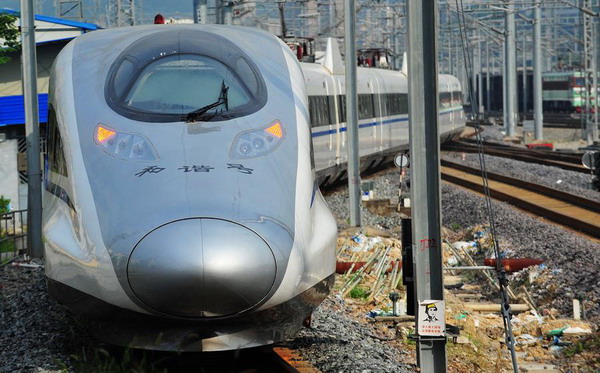 A bullet train departs from Fuzhou in East China's Fujian province, June 28, 2015. The Hefei-Fuzhou high-speed railway was put into operated on Sunday, which spans East China's Anhui, Jiangxi and Fujian provinces and shortens the travel hours from Hefei to Fuzhou to within four hours. [Photo/Xinhua]
The Hefu railway is of great significance to Fujian as the first HSR in the province and an integral part of the Beijing-Fuzhou HSR, connecting Fujian to the Bohai Rim Area, the most important economic region in North China, according to insiders.
With a projected speed of 300 km/h it cuts travel time between Fuzhou and Beijing from 10.5 hours to 7.5.
Furthermore, the railway will bring Fujian into the national HSR network, offering a much faster ride to the central and eastern areas of the country.
The opening of the railway is exhilarating news for migrant workers like Ms Zhuo who is from Anhui and works in Fuzhou.
"It used to take more than eight hours for me and my husband to return to our hometown. Now it only takes four hours, which is convenient and much faster," she said.
The railway grabbed public attention for months because it runs through a series of famous tourist destinations.
While crossing Jiangxi and Fujian provinces it passes the Yellow Mountain, Sanqing Mountain and Wuyi Mountain.
A hot ticket sale attests to the popularity of the railway, as all nine trains ran in full capacity on Sunday, transferring 5,574 passengers in total, according to the Fuzhou Railway Station.