Fujian FTZ to push forward another round of reform
( chinadaily.com.cn )
Updated: 2015-04-22
The China (Fujian) Pilot Free Trade Zone (FTZ) was officially inaugurated on Aril 21, marking that another round of reform in Fujian.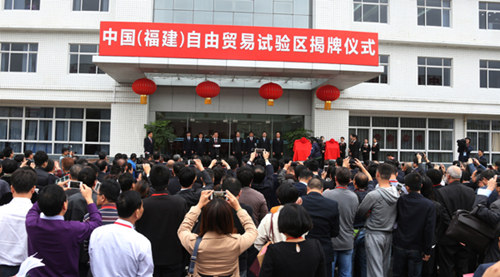 The China (Fujian) Pilot Free Trade Zone (FTZ) was officially inaugurated in Fuzhou on Aril 21. [Photo by Hu Meidong]
On the morning of April 21, Su Shulin, Fujian's governor, said at the launch ceremony that the Fujian FTZ will continue openness and reform.
The main task for the Fujian FTZs is to explore new development models for cross-Straits exchanges, accelerate institutional reform and offer advanced experience for other regions nationwide.
The Fujian FTZ covers 118.04 square kilometers, with three parks including Fuzhou, Xiamen and Pingtan.
To promote cross-Strait exchanges, the State Council realeased a plan for improvements to further facilitate investment from Taiwan to the FTZ on April 8.
Peng Jinguang, the vice chairman of Fujian Investment & Development Group Co.,Ltd, said that free trade and financial innovations in the FTZ will be attractive to Taiwan companies.
Peng also claimed that some giant companies in Taiwan have already shown interest in investing in Fujian.
Beda Bischof, a senior patent expert of the Swiss Federal Institute of Intellectual Property, said that the new rules will attract medium-and-small enterprises in Switzerland, and the new rules in business need to enter the legislative process.
According to officials, the provincial government has released 18 normative documents, and more will be released in late April.
Fuzhou Utrans E-commerce Co.Ltd., was among the first to obtais the business licenses from the Fujian FTZ. Yang Weipeng, the general manger, said that the company can benefit from the innovative policies to reduce the cost.
By Peng Juan from China Daily Fujian Bureau