Endangered Oriental White Stork rescued in Pingnan
( chinadaily.com.cn )
Updated: 2014-01-20
Residents of Luxia village, Pingnan county, Ningde recently found a large white bird which was later identified as an Oriental White Stork - classified as an endangered species by the World Society for the Protection of Animals.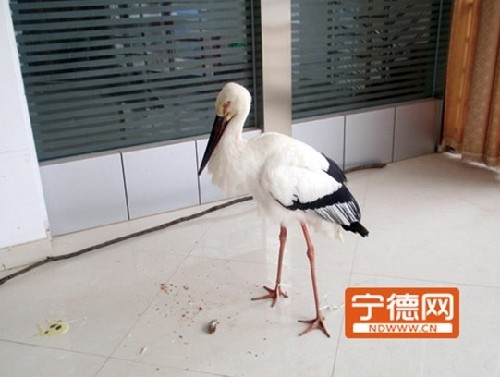 An Oriental White Stork which was found in the village of Luxia in Pingnan. The bird is an endangered species and, as it is still too young to fly, the authorities could not release it into the wild and it is now in the care of Fuzhou Zoo.(Photo:NDWWW.CN)
Experts determined that the bird was still a fledgling and thus unable to fly, and they recommended that it should be transferred to Fuzhou Zoo. One expert said that it may have been weak due to a lack of food and had perhaps collapsed in the field where it was found.
A zoo official with the surname Liao said that they had not found any injuries on the bird and that it would be held for an observation period and they would then decide whether or not to release it into the wild.
The Oriental White Stork breeds in China, Russia and Japan and, in the winter, it migrates to the Yangtze River, Fujian, Guangdong, Hong Kong, Taiwan and various coastal cities.
Edited by Wang Yifei and Niva Whyman