Heilongjiang Day held at 2017 Astana Expo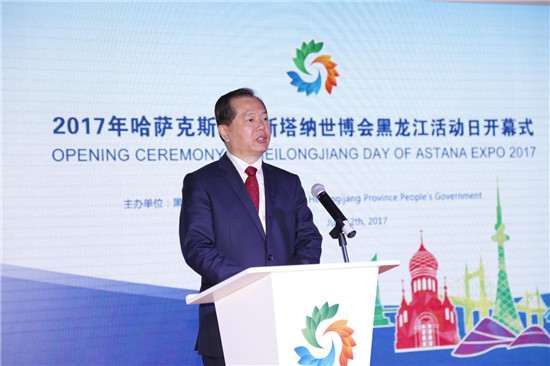 Heilongjiang Day was held at the China Pavilion of the 2017 Astana Expo on July 12.
Officials attending and addressing the opening ceremony included Du Jiming, vice-chairman of the Heilongjiang Provincial Committee of the Chinese People's Political Consultative Conference, Wang Jinzhen, government representative of the China Pavilion and vice-chairman of the China Council for the Promotion of International Trade (CCPIT), Zhang Hanhui, Chinese ambassador to Kazakhstan, and Yerenov Ayan, chairman of the Kazakhstan International Chamber of Commerce.
More than 200 representatives, including those of business associations and enterprises of China and Kazakhstan and of other pavilions, were also in attendance.
During the event, the China Pavilion has demonstrated Heilongjiang province's new ideas and achievements in the transformation of traditional energy and development of new energy, as well as in sustainable development, including the clean utilization of coal, technological innovation of petroleum and petrochemical equipment, and energy conversion of graphene.
Further events like the China (Heilongjiang)-Kazakhstan Entrepreneurs Cooperation Fair and an investigation of Astana Special Economic Zone and the Alma-Ata Industrial Park will be held.
The expo, with a theme of "Future Energy", is an important platform for countries to show the achievements of utilizing and developing new energy, to explore energy cooperation strategy and to promote sustainable development.
We hope that Heilongjiang province will make full use of the opportunity to further expand its pragmatic cooperation with Kazakhstan and neighboring countries, and to play a greater role in promoting the development of the Belt and Road Initiative and the comprehensive strategic partnership of China and Kazakhstan, Wang Jinzhen said.
There is great potential and a broad prospect for cooperation between Heilongjiang and Kazakhstan, Zhang Hanhui stated. The event has opened a window for the people of Kazakhstan to understand Heilongjiang, offering a chance of setting up mutual cooperation.
Zhang also introduced Heilongjiang province's agricultural and industrial products and tourism resources to the guests at the ceremony.