Carrie Bradshaw getting married in Vivienne Westwood and running around Manhattan in Christian Dior gladiator sandals and a YSL dress.
Samantha dressed in head-to-toe red Zac Posen clutching a Cavalli bag.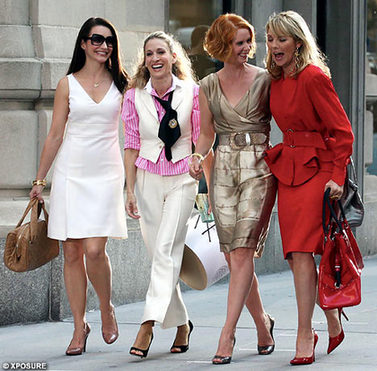 Role models: SATC's Charlotte, Carrie, Miranda and Samantha
Charlotte shopping with Miranda, carrying a quilted Chanel clutch and striding confidently in matching Louboutins.
We've seen the photos and recognise the labels.
The film that Sex And The City fans are anxiously awaiting is not due out until next summer, but the designer name-dropping has already begun.
Major brands and designers around the world spent months jockeying for prominent placement on this high-profile movie runway.
Money was offered, calls made, favours called in and publicists begged to get their brands on the backs of this glamorous quartet of women.
Insurance premiums are sky-high on the film, due to more than $20 million (£9.8 million) in borrowed jewellery and couture clothing.
And producers were forced to quadruple security - for the wardrobe, not the stars.
In some cases, such as Manolo Blahnik and Jimmy Choo, no money changed hands.
It's more about brand helping brand: Manolo makes Carrie look good and vice versa.
For the film spawned by the longrunning TV show, Sarah Jessica Parker, who plays Carrie, began fittings in August for her 80 costume changes.
"To get clothes for spring-summer 2008, there would be someone from Yves Saint Laurent standing there ready to strip me of them and take them back," she said.
One insider adds: "When Sex And The City's wardrobe supervisor Patricia Field's office calls to borrow something, believe me, you jump for that phone. It's like winning the lottery."
Brand strategist agencies work as corporate matchmakers and are involved in the movie-making process from the very beginning.
They are given advance copies of scripts in order to analyse whether there are opportunities for a partnership, giving money to the studio in exchange for promotion.
Now, some companies are investing directly in the production itself.
Dove put $3 million (£1.47 million), about a fifth of the budget, into The Women.
The film, set in modern-day New York, has an all-star female cast including Meg Ryan, Annette Bening and Eva Mendes.
"Nowadays it's hugely important for films to have corporate partners.
"It's very expensive to make a movie, but also to promote it," says Lori Sale, head of global branded entertainment for Hollywood powerhouse agency ICM, who put together the Dove deal.
Lori Kotarski Nelson, executive vice-president at top entertainment marketing agency Davie Brown, was given a copy of the Sex And The City film script to read.