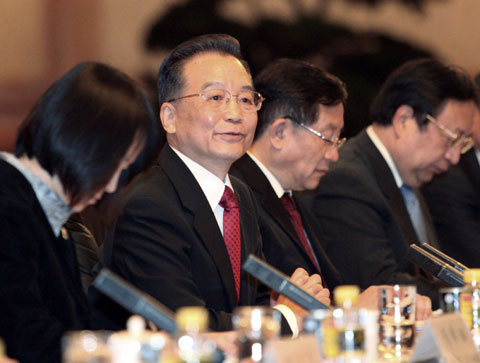 Chinese Premier Wen Jiabao hold talks with Japanese Prime Minister Yasuo Fukuda (not in the picture) at the Great Hall of the People in Beijing December 28, 2007. [Agencies]
Beijing -- Chinese Premier Wen Jiabao held talks with Japanese Prime Minister Yasuo Fukuda Friday morning, and both stressed joint efforts to promote bilateral relations.
Wen said China-Japan relations have entered "an important period of improvement and development", adding that he would like to work with Fukuda to jointly seize opportunities so as to "promote a new and greater development of the strategic and mutually beneficial China-Japan relations".
Wen said he and Fukuda had a "friendly telephone call" only four days after Fukuda assumed his premiership. They also met and had luncheon together during an Asian summit in Singapore last month. "It can said that we have established a sound work relationship," the premier said.
The talks took place in the Great Hall of the People after a red-carpet welcome ceremony.
Fukuda described their talks as "a heart-to-heart dialogue" and said he was determined to treat the bilateral relations earnestly "in the new year to come".
He said the China-Japan relations were facing "huge opportunities and responsibilities". Fukuda hoped the two countries could conduct cooperation for the future of Asia and the world.