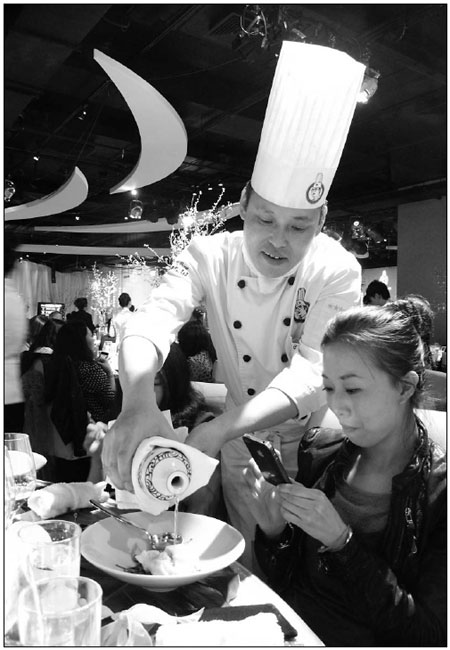 Dadong Peking Roast Duck Restaurant in Beijing goes for innovation in food and service. Ye Jun / China Daily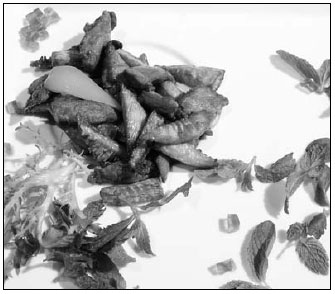 Bloggers were actively courted to blog about Dadong's dishes. Ye Jun / China Daily
Beijing
Owners write about new dishes, difficulties and joy of business, Ye Jun reports.
Kai Xiao Zao would have been just another small, newly opened restaurant in Beijing if the owners had not decided to write a micro blog about trivial events that occurred and about their struggle to stay in business.
In their posts, the owners often discussed what new dishes they were offering, how their small establishment was affected by rises in the prices of coal, gas and beer, how they were short of wait staff and how they managed expenses.
"At first we only wanted to keep a diary of what we were doing," said Jin Pengyuan, one of the owners. "But later I found that micro blogging brought in quite a few customers."
Jin, who had been the deputy director of a finance website before he helped to open the restaurant, said running a restaurant for the first time has not been easy.
"Every month there are extra expenses," he said. "You have to pay for additional air conditioning in the summer, and for more electric signs to advertise food at night.
"When I think about how I get this money by making one dish at a time, I can't help feeling that this is a tough way of life."
Jin makes it a point to communicate with other micro bloggers. He asks fans of his restaurant to guess the price of a new dish. The one who comes closest to the real number gets to taste the food free of charge.
Another of his posts told readers that a free plate of spicy chicken would go to the 1,050th fan of the restaurant's micro blog.
To date, the micro blog has attracted more than 7,000 fans and the restaurant's business has benefited.
Weibo, a micro blogging site, is China's equivalent of Twitter. Those who write on the site can put no more than 140 words and a single picture into a post. The text and pictures can then be put on the Internet using a computer or a mobile phone.
As 3G networks and smartphones become popular in China, restaurants and gourmet cooks have found that such technology gives them a means of promoting themselves.
Meanwhile, a demand has arisen for those who write the posts. Beijing's China World Hotel recently invited 10 bloggers to a dinner party.
"We were proud to be among the first to organize a bloggers' event," said Suemeng Chan, director of communications of the hotel.
"Micro blogs are an increasingly important part of Internet marketing because they can attract new users and maintain existing users' interests. By organizing the bloggers party, we established a closer relationship with online users."
Because the bloggers took photos and uploaded them live on micro blogs, their fans could gain a sense of what it was like to be at the meal.
Chan said the hotel has a plan to use micro blogs as part of a larger marketing campaign.
"Our main goal in 2011 is to establish the hotel's culinary stars on the Internet, by providing information about healthy lifestyles, fine food and wine to online users," she said.
The Dadong Peking Roast Duck Restaurant released its spring menu as part of a dinner party for 180 micro bloggers.
On the spot, the restaurant judged the posts the invited bloggers had written about the meal and the pictures they had taken, giving awards to those deemed to have the best productions. TV sets were put on the walls to display the commentary.
"The bloggers dinner was a huge success," said Dong Zhenxiang, owner of the restaurant.
On April 12, Dong organized a micro blogging sales meeting at the restaurant's Zhengzhou branch. Dong himself is a diligent micro blogger.
Since starting on July 30, 2010, he has put up 1,948 posts, and attracted 132,092 fans. The Internet has become a means for him to communicate not only with gourmets but also with customers.
Dong has also organized a group of micro bloggers and used it to enable people from different walks of life to upload pictures of food and to comment on Dadong's creations.
Many restaurant owners and young chefs are using micro blogs as a way to communicate with other professionals in the cuisine world. Among them are Hou Xinqing, a chef at the Summer Palace Chinese restaurant; Fu Yang, a chef at Le Quai; and Li Gang, owner of the popular restaurant In & Out.
"The biggest advantage of micro blogs is the instant communication they offer," said Dong.
"Although their history isn't very long, their use in giving a place publicity is obvious. My blog has drawn quite a lot of new customers to Dadong."