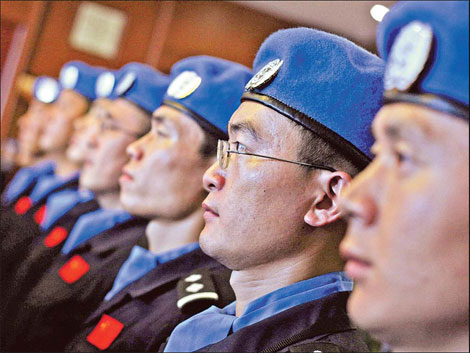 China had sent 1,573 peacekeeping police to seven UN assignment areas by May 2010. Wang Jing / China Daily
A book about China's contribution to the United Nations' peacekeeping police is a timely reminder of its increasingly influential role in world affairs. Liu Zhihua reports.
"I am Pick's direct superior and if Pick doesn't fulfill his duties I have the power to deal with and even sack him," says Lian Changgang, general supervisor of the United Nations' peacekeeping police in East Timor, in the book Fighting for Peace, by Yu Yin. The deputy commissioner general has barged into his office and ordered him not to upset his friend, Pick, whom Lian had scolded for disobeying orders.
"I'm very busy. Please leave," Lian says to the stunned official, before leaving the office.
The story encapsulates the complicated relationships Chinese peacekeepers deal with as they participate in the UN's missions around the world.
Yu's book, published by China Intercontinental Press, has been translated into English and French and examines the development of China's involvement in UN peacekeeping missions through individual Chinese officers' stories in East Timor, Bosnia and Herzegovina, Liberia and Haiti.
"Peacekeeping is not as romantic as it sounds. When a country needs other countries to help keep order in society, the disorder must be unimaginable," Yu says.
"Our peacekeepers are so brave and devoted. I felt I must write up their stories."
Yu became a journalist at Northeast Window magazine in 1999, the same year the government decided for the first time to send police officers to participate in UN peacekeeping operations.
As a retired navy officer, Yu was fascinated by the news and keen to learn more.
When the first squad of 15 Chinese peacekeeping police officers returned to China two years later, Yu interviewed Lian Changgang, the former "number two" official among UN's peacekeeping police in East Timor.
The interview was published in People's Liberation Army Daily and was widely reprinted. Yu, however, wasn't satisfied.
"In the past, Chinese went to a foreign land to get an education or to make a living, but peacekeeping forces are different. They are to help foreigners," Yu says.
Lian has a master's degree from Michigan State University in the United States in criminal law in 1997, and worked at a county level public security bureau before he was selected for the mission in East Timor.
Impressing other UN police officers with his ability and integrity, Lian was made general supervisor, through open competition, four months after he arrived in East Timor.
"Lian is a good example of Chinese peacekeeping officers, whose stories are impressive and encouraging," Yu says.
By May 2010, China had sent 1,573 peacekeeping policemen to seven UN assignment areas, demonstrating the commitment of a major economy to the peace of international society.
With help from Lian, Yu interviewed nearly 30 Chinese peacekeeping police officers.
Wang Ran, one of the first three Chinese women officers in East Timor, shares her gruesome job experience in East Timor with the author.
East Timor was covered with mass graves everywhere, in the aftermath of genocide. In rebuilding the country, locals often unearthed bodies whose identities were hard to verify.
Wang's task was to conduct surveys of the missing population, including unidentified bodies. She and four colleagues worked more than 10 hours a day, visiting burial sites to take careful notes and track down relatives of the deceased.
When there weren't enough helping hands, Wang and her colleagues had to dig up the bodies themselves.
The cadavers were often decomposed due to the tropical island country's high temperatures. After a day's work at the stinking graveyard, Wang felt nauseous at night. Their task determined they could only spend the night in tents beside the graves.
"I finally got a taste of the Chinese idiom 'feng can lu su' - 'eating in wind and sleeping in dew'," Wang says.
"We used to be looked down upon by foreign countries, but now peacekeepers have gained honor for our country," Yu says. "They fulfilled their tasks perfectly. They deserve salutes."
In April 2010, China Intercontinental Press approached Yu to have his book on Chinese peacekeeping operations translated.
"China has made great contributions to world peace. We hope the world understands the efforts of our peacekeeping police force," says Jing Xiaoming, director of the Books Business Development Department at China Intercontinental Press.
"I never dreamed of writing books for foreign readers," Yu says. "But it feels great to be able to introduce our peacekeeping force to the world."