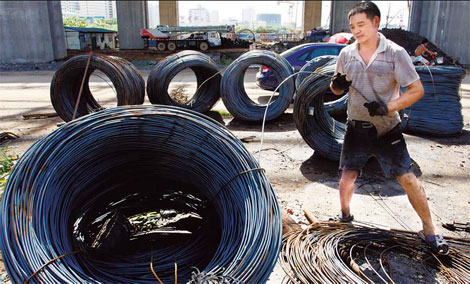 A worker unpacks steel rolls in Haikou, Hainan province. The United States has increased anti-dumping measures on Chinese steel products. [Provided to China Daily]
Related video: Supachai: China should defend its turf

UNCTAD chief warns of spike in trade protectionist measures
XIAMEN, Fujian - New trade protection measures adopted by developed countries like the United States against China will not only sour bilateral relations but also hamper global recovery, Supachai Panitchpakdi, secretary-general of the United Nations Conference on Trade and Development (UNCTAD) said on Wednesday.
Urging the nation to defend itself from such attacks, Panitchpakdi said the measures would strain China's economic ties with the US.
In an interview with China Daily, Panitchpakdi said he does not concur with the view of other nations that the investment environment is deteriorating in China.
"China should be more aggressive in defending its turf and be selective in allowing foreign investment," he said.
The UNCTAD chief's comments come at a time when some nations are emerging from the throes of a recession and others are busy withdrawing the massive stimulus packages.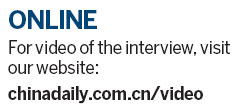 "I am concerned that trade friction between nations is increasing. It may intensify (in the coming months) and China will be a major target and the most frequently attacked nation. They (China) should be aware of this," he said.
Alarmed by rising unemployment and a ballooning trade deficit, the US has started a tirade against China's trade policies and termed them harmful for American companies.
The US Commerce Department said recently that it would monitor the alleged illegal import practices of nations like China and Vietnam, and impose higher duties when required.
He said although "both countries (China and the US) are now doing their best to reduce trade disputes", he still remains concerned "that (Sino-US) trade friction will rise", as "(US) companies are clamoring for more government intervention".
Expressing his concern, he said the lingering disputes would come in the way of a faster global economic recovery.
China has been a victim of trade protectionism recently with the US launching 23 cases against China, accounting for 65 percent of the trade disputes in 2009.
More aggressive
"I don't think China's investment environment is getting worse as argued, as China is in the right direction and doing more mobilization (on investment policies), including larger participation in distribution, banking sector reforms, and improving enforcement of IPR (intellectual property rights) laws," he said.
But, "of course, you cannot please everyone", he said.
According to UNCTAD's latest survey, China will remain the hottest foreign direct investment destination for the next three years.
Speaking at the 2010 UNCTAD World Investment Forum, Vice-President Xi Jinping said the government will strive to create a more open and optimized investment environment for foreign businesses.
"China needs to come out and be more aggressive in telling them the truth, and asking them to check, instead of just making loose comments, as the explanation is necessary and useful," he said.
"The vice-president's speech (at the opening ceremony) is graphic, explaining what China is doing on investment policies in clear terms," he said.
Commerce Minister Chen Deming said while the government remains optimistic about the investment environment, it also believes that there is still ample room for improvement.
Chen said the biggest concern for China is the quality of its foreign investment.
China should not worry too much about foreign investment, as the nation is not in dire need of such huge inflows, said Supachai.
The nation should strive to get more investment in the knowledge and technology sectors, he said.
"If they are not comfortable with China's policies, they can go somewhere else," he said.
The new FDI guidelines announced by the government envisages more foreign investment in sectors like renewable energy, high-tech and services.
During the first seven months of this year, China's FDI grew by 20.7 percent year-on-year, the highest growth worldwide. FDI growth in the services sector zoomed to 37.6 percent, compared with 4.58 percent for the manufacturing sector.
Zhou Siyu contributed to the story