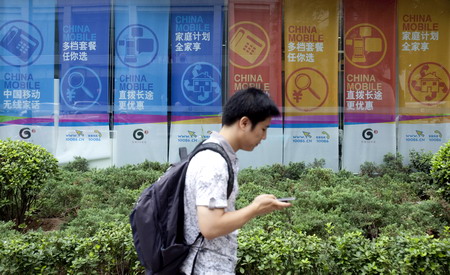 A man checks his mobile phone outside a China Mobile service hall in Beijing on Wednesday. Vodafone Group sold a stake in China Mobile for $6.6 billion in the biggest divestment since Chief Executive Officer Vittorio Colao took charge in 2008. [Nelson Ching / Bloomberg]

Sale is company's biggest since CEO Colao took charge in 2008
LONDON - Vodafone Group Plc's $6.6 billion sale of its stake in China Mobile Ltd is the biggest divestment since Chief Executive Officer Vittorio Colao took charge in 2008. Investors want to know what's next.
Vodafone sold its 3.2 percent stake in China's largest mobile phone company on Wednesday.
About 70 percent of the proceeds will be returned to shareholders through a stock repurchase and the rest will be used to pay down debt, Newbury, England-based Vodafone said in a statement on Tuesday.
China Mobile shares fell in Hong Kong, headed for their biggest loss in more than a year.
Colao, a former McKinsey & Co partner, has said Vodafone is reviewing all its minority stakes. The UK company, the world's biggest wireless operator, owns 45 percent of Verizon Wireless and 44 percent of SFR, which are majority owned by Verizon Communications Inc and Vivendi SA, respectively.
"People will of course look through this to future disposals," Mark James, an analyst at Liberum Capital in London. "The bigger ones are likely to prove harder."
Vodafone bought its stake in China Mobile, which is 74 percent owned by the Chinese government, in two transactions between 2000 and 2002 for $3.25 billion.
The 642.87 million China Mobile shares were sold at HK$79.20 ($10.19) each, the low end of the offered price and 3.4 percent below Tuesday's close.
Shareholders have been pushing management to squeeze more out of Vodafone's holdings. Vodafone hasn't received a dividend from its 45 percent stake in Verizon Wireless since 2005. Vivendi SA, which owns 56 percent of SFR, has said it would be interested in buying Vodafone's holding in France's second- biggest mobile-phone operator.
"They've given a pretty clear steer that they're going to look at asset sales," Steve Malcolm, an analyst at Evolution Securities in London, said of Vodafone by phone. "They have a good dividend agreement with SFR, but if the price is right they'll sell it. Vivendi has signaled pretty clearly that they're interested."
Colao is also pushing managers to eke out more profit from existing operations. In 2009, he merged an Australian unit with Hutchison Telecommunications Ltd's operation in that country, where growth prospects are slim.
Under Colao's predecessor Arun Sarin, Vodafone entered markets such as India and Turkey to make up for a slowdown in Europe.
Vodafone shares rose 0.1 percent to close at 159.9 pence in London trading on Tuesday. China Mobile dropped 3.78 percent to HK$78.9 on Wednesday in Hong Kong, headed for the biggest decline since Aug 17, 2009.
China Mobile received notice of the sale from Vodafone on Wednesday, the Chinese company said in an e-mailed statement.
"Since 2000, China Mobile and Vodafone have had close cooperation in business, technology and other areas," the statement said. "In the future, both companies will continue cooperation in these areas."
Colao said earlier this year that Europe was one of the company's three "priority areas" alongside sub-Saharan Africa and India.
Vodafone's profile may soon change in India as well. Vodafone's Indian venture partner Essar Group is weighing an initial public offering of a stake in the companies' joint unit, four people familiar with the matter said July 17. Vodafone bought a 67 percent stake in Hutchison Essar Ltd in 2007, before seeing its outlook for India sour when six new national licenses were awarded a year later.
Bloomberg News