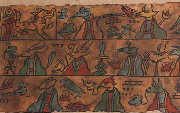 Dongba painting, the oldest and most representative religious painting of the ancient Naxi people, is also the people's most special and characteristic artistic legacy.
Dongba painting originated from the ancient Dongba hieroglyphs (pictures representing words) as well as from the various Dongba religious activities. For instance, during the sacrificial ceremonies, the ceremony masters had to dress like Buddha or gods, or animals and plants, or even demons. Dongba artists then would draw these images down onpaper, creating a primitive form of today's Dongba painting. Dongbascroll paintings as well as the art of Dongba painting are invaluable treasures in the ethnic gallery.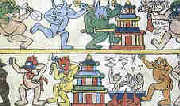 Dongba painting boasts hieroglyph's five classic artistic characters: the Beiye scripture form, exquisite lines, beautiful colors, dynamic expression and sharp features.
Dongba paintings, as an important part of Dongba culture, were mainly about the gods andghosts who Naxi people believed to exist. The paintings also reflected various aspects of the people's social life.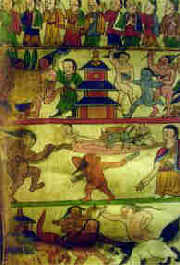 Dongba paintings fall into different categories, with each one retelling one or several moving stories. According to the forms employed, the paintings can be categorized into five kinds.
Bamboo-pen paintings, the first kind, were mostly used for the bindings and illustrations of Dongba scriptures. These paintings were painted on a piece of bark-made paper by artists using a tipped bamboo plate as a pen with ink on the tip.
Wooden plate paintings, the second kind , were a special kind of Dongba painting that was used for sorcery activities. On a flat wooden plate, a Dongba artist would first draw the sketch with a brush and then add colors to finish the picture. Usually with ingenious designs, odd appearances, vivid expressions and bright colors, this type of painting possesses a unique artistic style.