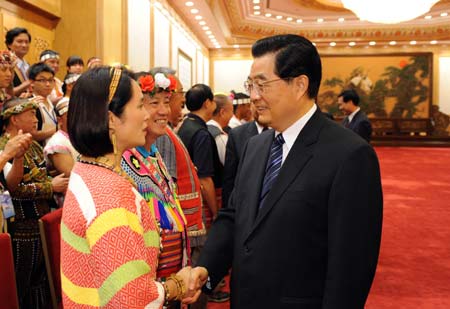 General Secretary of the Communist Party of China (CPC) Central Committee Hu Jintao meets with a delegation of ethnic minorities from Taiwan, headed by actor-turned-politician Kao Chin Su-mei in Beijing, August 19, 2009. [Xinhua] 
BEIJING: Top leader of the Communist Party of China (CPC) Hu Jintao Wednesday expressed his condolences to the Taiwan people for the victims of Typhoon Morakot.
Hu, general secretary of the CPC Central Committee, expressed deep sorrow on behalf of mainland people.
"We share the same feeling with Taiwan compatriots, especially the ethnic minorities, who suffered serious life and property loss in the recent disaster. We are very much concerned," Hu said.

He made the statement when meeting a delegation of ethnic minorities from Taiwan, headed by actor-turned-politician Kao Chin Su-mei.
People on both sides of the Taiwan Strait are of one family and Chinese people have a long tradition of lending a hand to those in danger and difficulties, he said.
"The difficulties Taiwan compatriots are facing mean the same to us. We will continue helping them in rescue and relief as well as support them in rehabilitation."
As of noon Wednesday, 136 people were confirmed dead in Taiwan, 45 injured and 386 missing. The death toll did not include 523 people who were buried under mudslides in two villages.
The mainland has so far donated about 176 million yuan (US$26 million) and 25 million yuan of disaster relief materials to Taiwan, according to the State Council Taiwan Affairs Office.
The first batch of portable houses and 10,000 sleeping bags, 10,000 blankets and 1,000 sterilization appliances had reached Kaohsiung Tuesday.
At the meeting, Hu also admired the ethnic minority people in Taiwan for their persistent efforts against invaders to Taiwan and to protect the dignity of their own people.
They also made great contribution to the development of Taiwan and the whole Chinese nation, he said.
"Ethnic minorities in Taiwan are important members of Chinese family," he said. "You have proved, with what you have done, that people across the Strait can work together to protect and make our home better as well as create a new environment for peaceful development."
In the past year, cross-Strait relations made a historic turnover, which is in line with basic interests of people on both sides, Hu said.
"I truly hope compatriots on both sides will work together closely to realize the revival of Chinese nation."