All of the pigments used to paint the scroll come from the nature, such as the mineral pigment made from gold, silver, coral, agate, pearl and diamond, and plant pigments made from saffron, madder and rhubarb.
Inheriting the techniques of traditional Tibetan paintings, the work also assimilates the skills used in western paintings, bringing viewers a new and fresh aesthetic experience. The whole scroll features an exquisite touch and depicts many lifelike human figures. The densest places on the scroll contain more than 300 human figures or 30 palace rooms per square meter -- that's more than 2,480 mural images on each square inch, which can only be achieved using a brush with a neb of a single hair. Many subminiature images can only be detected with the help of a magnifying glass.
After its completion in August 1999, the scroll made its debut in the Longxing area of Huangnan Prefecture in Gansu Province from September 30-October 4 that year. In the same year, the work won the "Record of the Great World Genesis."
Regong art propels economic development of Tongren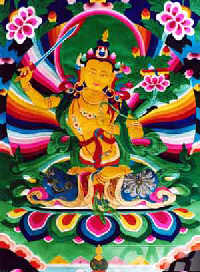 As the nation's historic and cultural city, Tongren came up with the idea of combining culture and economy to develop both fields. It considers Regong art as a top resource to promote its tourism and expand publicity efforts to boost its fame. Every year, more than 3,000 tourists from the United States, Japan, Britain, Australia, Switzerland and other countries come to Tongren to appreciate Regong art and many travel from Taiwan and Hong Kong regions for the same purpose.
Meanwhile, to maximize the local economy, Tongren set up the Regong Art Association to ensure the orderly and healthy development of Regong artwork markets.
It is reported that in Upper Wutun Village more than 90 percent of adult men and many women have mastered the skills of making thangka and sculptures. As a result, many of them are invited to Inner Mongolia, Sichuan, Zhejiang, Tibet and Gansu to create painting and sculptures while others stay behind to produce them at home. Each year the per-capita income of people in the village exceeds 2,500 yuan, with more than 80 percent coming from Regong art works. Rough statistics show that in Tongren County the annual revenue from Regong art reaches more than 36 million yuan, accounting for 2.1 percent of the total.