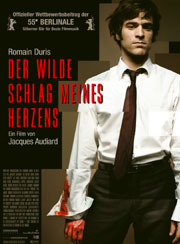 the film "The Beat That My Heart Skipped" wins the best French film of 2005.
Jacques Audiard's "De battre mon coeur s'est arrete" (The Beat That My Heart Skipped) continued its winning streak Tuesday,waltzing offwith the prize for best French film of 2005 at the 11th annualLumiere Awards, France's local version of the Golden Globes.   
Centering on a young man whoyearnsto escape his businessman father's influence to become a concert pianist, the remake of James Toback's 1978cult film"Fingers" has swept a number of French and international awards. 
The feature was named best film by the French Critics' Union and the French Cinema Press Golden Stars awards, was tapped best picture at the European Film Festival in Seville, Spain, and took thetrophyfor best non-English-language film at Sunday's British Academy Film Awards in London.
On Saturday (February 25), the film will compete for10Cesars-- France's top film honors -- including best film, director and actor.
"Beat" lead Romain Duris was named best actor at the Lumieres. Isabelle Huppert won the prize for best actress for her role in "Gabrielle," director Patrice Chereau's adaptation of Joseph Conrad's novel "The Return." "Gabrielle" is a contender for six Cesars.
The prize for best director went to French writer-director Philippe Garrel for "Les Amants Reguliers" (Regular Lovers). The drama, which is shot in black-and-white and stars Louis Garrel, the director's son, scooped a Silver Lion and a prize for photography at the Venice Film Festival last year and best film at France's Louis Delluc awards in December.
The prize for best screenplay went to Austrian filmmaker Michael Haneke for his French-language political-themed thriller "Cache" (Hidden), which he also directed. Belgian filmmakers Jean-Pierre and Luc Dardenne's Cannes festival Palme d'Or winner "L'enfant" (The Child) won the prize for best Francophone film. Both "L'Enfant" and "Hidden" have received four nominations for the Cesars.
Johan Libereau was named best male newcomer for his role in Antony Cordier's "Douches Froides" (Cold Showers), and Fanny Valette won best female newcomer for Karin Albou's "La Petite Jerusalem."
Radu Mihaeleanu's "Va, vis et deviens" (Go, See and Become) won the Prix du Public audience award introduced this year and voted onvia the Internetby viewers of international French-language channel TV5 Monde across the globe.
The Lumieres were presented at alow-keyceremony at Paris' Cinema des Cineastes movie hall Tuesday night by the Academie des Lumieres, whose member base of 200 Paris-based foreign correspondents vote to decide on the honors.

(Agencies)