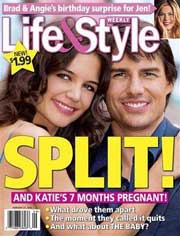 The cover of the the new issue of 'Life & Style' magazine featuring a photograph
Hollywood lovebirds Tom Cruise and Katie Holmes remain engaged to be married and are proceeding with wedding plans, his publicist said on Tuesday, denying a Valentine's Day report to the contrary.
"It should be known that the story (of a breakup) is 100 percent false," spokesman Paul Bloch said in a statement sent to news agencies in response to the report, from celebrity magazine Life & Style.
"Mr. Cruise and Ms. Holmes are still engaged and are moving forward with their wedding plans, as well as planning for the arrival of their child. Despite themalicious fallaciesput forth ... the couple is looking forward to a long and happy life together as a family."
Twice-married Cruise, 43, and Holmes, 27, began dating in April, but far from keeping their relationship low-key, the "Mission: Impossible" star became the butt of jokes in May after publicly declaring his passion for his new girlfriend in a manic, couch-jumping appearance on "The Oprah Winfrey Show."
He proposed to Holmes in June at the Eiffel Tower in Paris and announced their engagement the next day at a news conference. The pair said in October they were expecting a baby and the next month Cruise said he had bought asonogrammachine so they could monitor the development of their child in utero.
In an ABC interview in the fall, the couple said they planned to marry in 2006, but no precise date was set.
Citing unnamed sources described only as "multiple insiders," Life & Style reported on Tuesday that Cruise and Holmes had agreed to call off their engagement but maintain the "charade" of a romance until after the birth of their baby.
In the meantime, the magazine said, the two stars planned to live in Cruise's Beverly Hills home, though sleep in separate bedrooms, through the summer.
The report anonymously quoted a friend of Cruise as saying, "Their relationship is basically over," but that the actor plans to buy Holmes her own home nearby and share custody of the child.
A spokeswoman for Life & Style said the magazine stood behind its story "100 percent."

(Agencies)