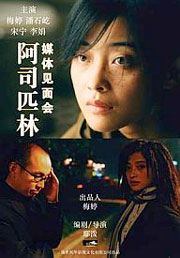 Meiting stars in the movie "Aspirin".
Three domestically produced romantic comedies will open in Shanghai on Valentine's Day, which has become a busy day at the box office for local movie theaters. 

Peng Xiaolian's "Shanghai Rumba" tells the story of two filmmakers working in Shanghai in the 1940s.

"The Road" stars actress Zhang Jingchu, who shot to fame last year with her performance in "Peacock," which was honored at the Berlin Film Festival.
Famous mainland actress Mei Tingplays thelead rolein "Aspirin," another romantic comedy. The new film tells a complicated love story about modern young girls in big cities. Moreover,real estate tycoonPan Shiyi will join the movie. It is the first time for him to hit the big screen."

Aspirin is a film that Mei Ting invested and produced by herself. She said that she was inspired by a claim of Luc Besson's, the famous French movie producer and director, movie is not a kind of useful medicine at all.
Aquiring funds to produce a film is difficult and Mei Ting invested two million yuan (almost US$249,000) toshootAspirin. Although such an investment isn't much for a company in the business, it's worth the equivalent of two TV series for Mei.
Mei expressed her optimism for the movie. Investing money in this project is nothing to me. The most important thing is finding the most optimal and ideal story to shoot, she said, I'm the kind of person who will work for my whole life.
Besides performing, Mei Ting also contributed more to the film. Not only did she sing the theme song, she also had heated debates with other cast and crew members to make Aspirin better.
She says that her husband also gave her a lot of help and support during the shoot.
Last year, our chain took in around 2.33 million yuan (US$289,171) at the box office on Valentine's Day, and this year we have a few more romantic comedies to add a sweet and hilarious flavor," said Wu Hehu, deputy director of Shanghai United Cinema Lines, the city's leading cinema chain.
Paradise Warner Cinema City will give out gifts and red roses to audience members next Tuesday, while the SFG Village Cinema City will hold a speed dating event at its theaters that evening.
However, "Memoirs of a Geisha" will not be screened for Valentine's Day as previously reported, Shanghai United Cinema Lines said yesterday.
The US$85 million romance directed by Rob Marshall and starring Chinese actresses Zhang Ziyi and Gong Li, was originally scheduled to debut on the Chinese mainland around the Valentine's Day.
Shanghai Film Dubbing Studio had begun work on a mainland version of the movie, but stopped when it failed to receive a permission from the State Administration of Radio, Film and Television. SARFT officials declined to say more about the movie yesterday.
While it won't be allowed on local cinema screens, copies of the movie have already shown up in DVD stores around the city.

(Agencies)