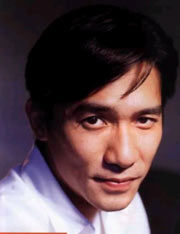 Leung Chiu-wai to Star as Mei Lanfang
The legendary story of late Beijing opera master Mei Lanfang has long been of interest to many established directors.
Hong Kong director Stanley Kwan has finally gotten the permission of Mei'soffspringto bring the story of Mei to the big screen. Hong Kong superstar Tony Leung Chiu-wai will star as Mei Lanfang, the Sina Web site reported Wednesday.     
Kwan was quoted as saying that Leung hopes he will be totally prepared before shooting the movie. "It is definitely a big challenge for Leung even though he has bagged so many awards. He is going to learn Beijing opera skills and do some research so as to make the movie another milestone in his acting career," Kwan said.    
More than 10 years ago, Hong Kong star Leslie Cheung was applauded for the role of a Beijing opera star in director Chen Kaige's "Farewell My Concubine." Moviegoers are waiting to compare Leung's performance with Cheung's, and Kwan fended off questions. "Leung's style is totally different from Cheung's. Obviously curiosity will be aroused as to what Leung will look like under Beijing opera makeup."     
The script has been finished and shooting is expected to start in 2007.   

(Agencies)