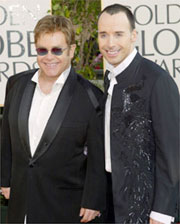 Elton John, left, with David Furnish
Rock star Elton John istying the knotwith longtime partner David Furnish Wednesday, in a civil union ceremony seen as awatershedin the struggle for gay rights - and as the party of the season bycelebrity-spotters.
Thousands of fans are expected to mob the cobbled streets around Windsor's town hall, the Guildhall, where Prince Charles and Camilla Parker Bowles wed in April.
Police erected security barriers outside the sturdy building of brick and Portland stone partly designed by Christopher Wren, but expected no trouble.
"It's not a major police operation - it's not a royal wedding," Windsor police spokeswoman Sue Mahoney said. "The general atmosphere seems to be jolly, very good humored."
Windsor is a centuries-old seat of British royalty west of London.
John and Furnish are the most prominent of hundreds of same-sex couples planning to form civil partnerships in England and Wales on Wednesday, the first day that such ceremonies become possible. Ceremonies were held earlier this week in Northern Ireland and Scotland.
Gay rights activists see the unions as joyous - and important in advancing efforts to give same-sex couples the same rights as heterosexual ones. Peter Tatchell, spokesman for the gay and lesbian human rights group OutRage! said the wedding "would raise the profile of gay love and commitment."
"Their same-sex civil partnership ceremony will be reported all over the world including in countries where news about gay issues is normally never reported," he said. "This will give hope to millions of isolated, vulnerable, lesbian and gay people especially those living in repressive and homophobic countries."
Furnish, a Canadian-born filmmaker, and John have been together for 12 years.
The couple plans a low-key private ceremony, with only John's mother and stepfather and Furnish's parents expected to attend. The reception, by contrast, is expected to be astar-studdedextravaganzacosting an estimated 1 million pounds (US$1.75 million, euro1.4 million).
(Agencies)