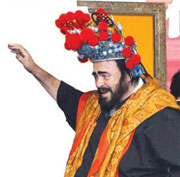 Italian opera star Luciano Pavarotti wears a Peking Opera headdress presented to him after a news conference in Beijing yesterday. Pavarotti will hold a concert tomorrow in Beijing as part of his round-the-world farewell tour concerts that will end with his retirement.
The 70-year-old tenor Lusiano Pavarotti told reporters in Beijing Thursday that he would show his talent as "King of Hi-C" at thefarewell concertin Beijing Capital Gymnasium on Dec. 10.
The concert in Beijing, following the one in Shanghai, will complete his Worldwide Farewell Celebration Tour in China.
Some 20 years ago, Pavarotti paid his first visit to China and offered Chinese audience with Bohemian for the first time.
Changes in China over the past years are incredible, said Pavarotti, but he received the same warm welcome by the Chinese audience this time in Shanghai.
In 2001, Pavarotti joined hands with other two top tenors Placido Domingo and Jose Carreras to stage a performance in the Forbidden City to support Beijing's bidding for the 2008 Olympic Games.
The maestro decided to make his farewell tour performance at the beginning of this year. At each station of his tour, Pavarotti will perform 34repertoiremarking the peak of his 44-year singing career. He was very careful in picking up songs in his farewell tour.
With his habit of doing charity, Pavarotti will auction a car presented to him by DF-NISSAN company to build a primary school for Chinese children in poor families.
Born in an ordinary family in 1935, Pavarotti showed his gift ever since he was a child. In 1955, he went to receive professional training onvocality, and scored his first prize in 1961. In 1972, he was entitled "King of Hi-C" for his marvelous talent in singing with high tone.
According to the organizers of the Beijing performance, 80 percent of the tickets have been sold. Ticket sale of the concert is expected to hit the record of a single performance at the Beijing Capital Gymnasium.

(Xinhua)