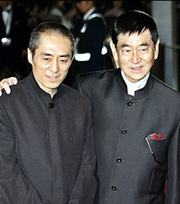 Japanese movie star Ken Takakura (R) poses with Chinese film director Zhang Yimou (L) as they walk on the red carpet for the opening ceremony of the 18th Tokyo International Film Festival. (AFP)
Chinese director Zhang Yimou was in his late 20s when he saw Ken Takakura take on Japanese mobsters on the big screen, a performance that helped inspire him to quit his cotton factory job and join film school.
Almost three decades, several box office hits and two Oscar nominations later, Zhang says his dream finally came true when he directed the Japanese actor in his new movie, which premiered at the Tokyo Film Festival this weekend.
The film, "Riding Alone for Thousands of Miles", follows the journey of a Japanese fisherman and his dying son as they travel to China in search of the secret behind a local opera.
"I created this film to make my dream come true," the 54-year-old director told reporters ahead of the world premiere of the movie, which opened the festival on Saturday.
"I was so impressed by Mr. Takakura's unique style of solitude and quietness when I saw his film 'Kimiyo Fundo no Kawa o Watare' (Cross the River with Anger) 30 years ago, before I entered a film school in Beijing," he said.
In the film Takakura played a prosecutor accused of a crime he did not commit who travels the length and breadth of Japan chasing the truth and trying to track down the leader of a crime syndicate plaguing the country.
The film was shown in China in the late 1970s after the Cultural Revolution and was a huge instant success throughout the nation.
Takakura, known for his brooding style and tough-guypersona, has been nicknamed the " Clint Eastwood" of Japan for his roles in 1960s gangster movies on the Yakuza crime syndicate.
(Shenzhen Daily)