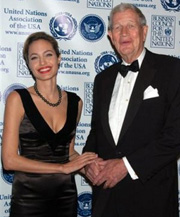 Actress Angelina Jolie poses with United Nations Association of the USA chairman William H. Luers at the UNA-USA 2005 annual dinner, where she was presented with the Global Humanitarian Action Award, in New York, Tuesday, Oct. 11, 2005. (AP)
Angelina Jolie has accepted an award for her humanitarian work as a goodwill ambassador for the United Nations refugee agency.
At a dinner attended by 700 diplomats and VIP guests Tuesday, Jolie received the Global Humanitarian Award from the United Nations Association of the U.S.A.
The actress said her humanitarian work has been "the greatest thing in my life" aside from her two children.
Jolie has a 4-year-old son, Maddox, who was adopted from Cambodia, and an infant daughter, Zahara, adopted this summer from Ethiopia.
She said she hoped she wouldlive up tothe promise she made to herself when she became a goodwill ambassador four years ago for the office of the U.N. High Commissioner for Refugees to do everything possible to help refugees all over the world because "they deserve every bit of our effort."
Jolie quoted from the preamble to the U.N. Charter which reaffirms "faith in human rights" and said, "the U.N. is the closest thing to fighting for justice."
"I feel very, very privileged to be a very small part of it," Jolie said.
(Agencies)