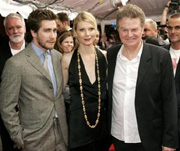 Co-stars Gwyneth Paltrow (C) and Jake Gyllenhaal (L) pose with director John Madden at the world premiere of 'Proof' at the 30th Toronto International Film Festival in Toronto September 12, 2005.
When a film's release gets delayed, it usually spells trouble in Hollywood, especially in Oscar season. But when John Madden's "Proof" was pushed from last year to this, the director breathed a sigh of relief.
"From my point of view, it was kind of bonus," said Madden, whose 1998 film "Shakespeare in Love" won the best film Oscar.
Madden told Reuters the delay gave him a comfortable amount of time to complete "Proof," which is based on the Pulitzer Prize-winning play about a young woman's emotional troubles as she cares for her mentally ill father.
The decision also kept the film from getting lost among the other movies distributor Miramax Films offered last year, including Oscar nominees "The Aviator" and "Finding Neverland."
"It wasfrustratingfor a moment, but to be honest it never really found a home at the end of last year," Madden said. "We didn't finish until late October, which was too late for it to be in festivals and I think that would have helped the movie."
"Proof," starring Gwyneth Paltrow as the daughter and Anthony Hopkins as her father, debuts at festivals in Venice and Toronto this month before opening in the United States on Friday.
Early reviews for the movie are promising. Time magazine said, "'Proof' is a film on the side of the lost, blessed souls" and "Paltrow emphasizes the blessedness in the isolation of genius, giving a new dimension to a complex role." Show business newspapers The Hollywood Reporter and Daily Variety also turned in positive comments.  
(Agencies)