BEIJING - Chances of a plague outbreak in the quake zone were slim, but the health sector still needed to be prepared for the worst, a specialist with China CDC told Xinhua Tuesday.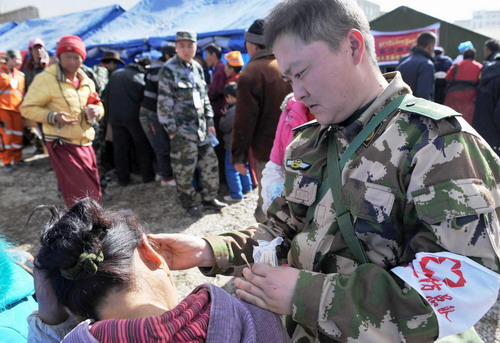 Surgeons from a medical team of traditional Chinese medicine sent by the Public Security Border Troops of Yunnan province apply acupuncture on a Tibetan woman injured in the earthquake in Yushu, Qinghai province on April 19, 2010. [Xinhua] 
"The human transmission of plague in Yushu requires direct contact with the Himalayan marmot, but the marmots won't wake up from hibernation till the end of April," said Ni Daxin, an epidemiologist with the Chinese Center for Disease Control and Prevention (China CDC) in charge of epidemic risk evaluation of the quake zone.
Related readings:


 Relief supplies arrive in quake-stricken Qinghai


 Action to ease quake suffering

 Qinghai govt pledges to assist with quake orphans


 Taiwan medical team arrive in quake region


 Field hospital built in quake zone
However, he said the Himalayan marmot, or Tibetan snow pig, might wake earlier because of the quake, so the situation must be closely monitored.
The health ministry warned about outbreak of plague immediately after the 7.1-magnitude earthquake struck Yushu last Wednesday, as the region is the origin of the Himalayan marmot plague.
China CDC started assessing the risk of plague on the day of earthquake, as ordered by the ministry.
Yu Dongzheng, a research fellow specialized in epidemic prevention with China CDC, was quoted by the health-ministry-run newspaper as saying, the past five decades witnessed 20 outbreaks of human-to-human transmission of plague in Yushu, the latest in 2004 claiming six lives.
So far, no marmots have been found. As of Tuesday morning, health institutions in the worst-hit Yushu prefecture reported no cases of plague or any other communicable disease, said Ni.
The health ministry Monday issued a notice requiring the epidemic prevention team on the ground to expand monitoring for plague .
The notice also ordered increased education about plague prevention for quake victims, rescue workers and medical workers in the quake zone.
Ni said it's quite necessary, because "Lots of quake relief medical workers are dispatched from non-plague areas, so they must be familiarized with the disease quickly for the sake of early detection."
Besides, there are people hunting marmots for their fur. "People must be warned against this," said Ni.
Meanwhile, China CDC already had delivered 80,000 bilingual disease prevention brochures in Chinese and Tibetan, and 10,000 plague prevention leaflets to the quake zone, with more to go.
Instructions for preventing plague, as well as pamphlets about working in high altitude areas were also delivered.
Besides, "Those developing symptoms of fever, coughing or swelling glands needed to be scanned for plague," said Ni.
Ni also warned of other epidemic hazards in the quake zone, among others, tainted drinking water.
In the worst-hit Jiegu township, there are now seven settlements of quake survivors, the largest sheltering 20,000. Ni said, some of the wells nearby were sterilized, but water from river was not. "The current counter-measure is to educate the quake survivors not to drink unboiled water."
Risks of tuberculosis (TB) infection are mounting, because TB, a highly infectious disease mostly affecting the poor, needs to be treated by consistent medication. Ni said the earthquake might have hindered such treatment.
Ni said, regular medical services in the quake zone needed to be restored as soon as possible.