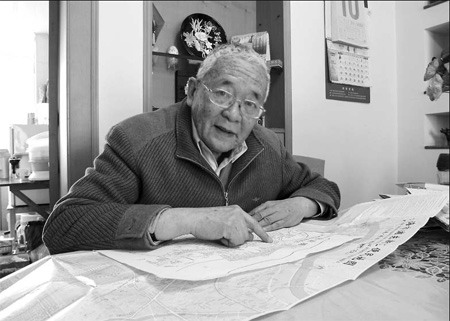 Shen Ruqun, 80, has co-drafted 15 editions of the map of Shanghai's Pudong New Area based on his research using his own footsteps as measurements. [Qian Yanfeng/China Daily] 
Retired worker maps bustling Pudong New Area stride by stride
SHANGHAI -- Most of us would recognize Shanghai's Pudong New Area by eye - with its distinctive buildings like the Oriental Pearl.
Shen Ruqun, however, knows the area by foot.
For nearly 20 years, the 80-year-old man has largely relied on walking barefoot to record the changing landscape of China's financial and commercial hub - the iconic epitome of China's modernization.
Related readings:


 'Businesses are permanently growing' in Pudong area


 Pudong rests hopes on amusement park


 Shanghai's Pudong sets double-digit GDP growth target


 Pioneering Pudong sets sights on world
He co-drafted 15 editions of the map of Pudong based on his own research and observation - using his footsteps as measurements.
"One footstep is about 75 centimeters in length, and I used it as a reference for calculating the distance between different buildings," said the cherubic bus company retiree, who is so familiar with the urban layout of the region that he is now considered a "living map" of Pudong.
However, Shen said he might still lose his way on the streets today if he stayed at home for several months, as the "pace of change in Pudong is much faster than my footsteps and the updates on the maps".
"Every time I finished drawing a map, I thought that was the end of my job. But before I knew it, rapid changes in the area would make everything different and then I have to include them into a new map," he said.
The crisscrossed streets and mushrooming high-rises labeled on the maps are the crystallization of almost two decades' of field study by Shen and three of his co-workers, who are all retirees from the Shanghai Pudong Bus Company.
Their maps not only record the physical geography of the area, but also highlight major high-rises, companies and urban amenities, in a bid to showcase the business environment of Pudong together with its urban attractions.
The idea of drafting such a map of Pudong, on the eastern bank of the Huangpu River, first struck Shen in 1990 when the district began to witness large-scale development following the central government's plan to develop the area as a further promotion of the reform and opening up policy.
As a worker at the bus company, Shen had the privilege of traversing the area on a daily basis and he was simply "taken aback" by the rapid changes. Everything looked so new and prosperous, and making a map, he thought, would make travel to the area more convenient and may even promote business development.
"Pudong was so new there wasn't even a map at that time," said Shen. "I thought it'd be great if we could offer a map that told people around the world what Pudong has, such as the world's top 500 companies, world-class high buildings and beautiful residential communities."
"If outside investors see businesses thriving in the area, they'll be encouraged to come here too. So the message we want to convey is that Pudong has a very good business and living environment," said Shen.
So the four retirees began a journey that took them into every detail of the emerging metropolis. They took buses and rode bicycles, but mostly they walked, staying close to the scene and not missing any single change. Despite the sweat and toil, what they felt was "genuine passion and excitement," according to Shen.
"I still remember in 1993, when we finished the first edition of the map, there were less than 20 buildings higher than 15 stories. The next year, that number suddenly increased to 60. It's an amazing experience," he said.
What made Shen even prouder is the fact that he and his colleagues did not ask for government financial support to publish the maps. They turned to the market and asked companies to pay if they wanted to advertise on the maps.
Their work was soon well-received by business people in the region and even won recognition from local authorities. The four later worked with a professional map-publishing house to make their maps more professional.
In the following years greater changes took place and Shen witnessed Pudong turn itself into a world-class financial center from a poverty-stricken countryside. Skyscrapers now dominate its futuristic skyline and make it one of the most favorite destinations for international businesses.
"Pudong has achieved, in only 20 years' time, what Western countries did in more than 100 years. Every Chinese should be proud of this," Shen said.
With the State Council's decision last year to develop Shanghai into an international financial and shipping center by 2020, Shen believes Pudong will usher in a new era that will make Shanghai a more vibrant and progressive metropolis.
"I'm too old to continue making maps. But deep down in my heart I'm as young as Pudong," he chuckled.