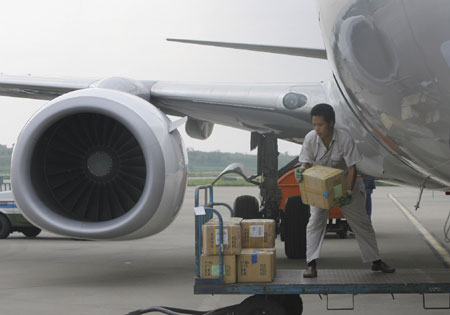 Workers unloading freight at Nanjing Lukou International Airport. [AN XIN / CHINA DAILY]
Companies confident of tiding over current volcanic ash crisis in Europe
BEIJING - The cloud of volcanic ash from Iceland that has brought Europe's airlines to a standstill is a headache for global airfreight companies, but will not hamper the market recovery this year, a senior executive from DHL said on Tuesday.
The closure of European airspace due to the spreading ash cloud has resulted in delayed transportation of air cargo bound for Europe. It would take "some time" to transport the delayed shipments, even if the situation improves later this week, said Charles Kaufmann, chief executive officer for North Asia, DHL Global Forwarding.
"As most of the commercial carriers have stopped cargo shipments to Europe, what we can offer is additional warehouse space around airports. In certain cases, we have to ask customers to stop giving us cargo to ship," Kaufmann said.
But if the closure continues, the German logistics company will have to look for other routing options, Kaufmann said.
Citing an example, he said Europe-bound shipments may be flown to Eastern European airports and then trucked to their final destinations. Another solution is to fly the goods to the Middle East first and then ship them to Europe by sea.
The huge ash cloud from the volcanic eruptions in Iceland has grounded most flights to and from Northern and Central Europe since Friday.
United Parcel Service Inc (UPS) has started to fly some Europe-bound shipments from Asia to Istanbul, Turkey. The company will then forward the shipments by trucks to the final destinations.
FedEx, on its part, has stopped accepting deferred international shipments bound for Europe, Dow Jones Newswires reported.
The closure of European air space is not only costing airlines at least $200 million a day in lost revenues, but also affecting industries, such as pharmaceutical companies, that are particularly reliant on air freight. Air-freight charges are expected to soar due to shortage of capacity, analysts said.
But Kaufmann said the impact will be temporary and DHL is still confident about "a strong year of air freight growth in 2010".
Asia, especially China, will lead the global air-freight recovery in 2010 as the region witnesses strong momentum in exports and faster growth in consumption, Kaufmann said.
Intra-Asia routes, Middle East/Africa-Asia routes and Latin America-Asia routes will see the strongest growth in air cargo demand this year, the German company said.
Related readings:


 Shroud over Chinese show industry


 Profits take off at China Eastern Airlines


 Tibet Airlines to launch in May
"Even as air freight volumes continue to rise, operators, particularly in Asia, will need to plan their flights and cargo capacity in such a way as to avoid oversupplies. The imbalance of the supply and demand will continue in the second and third quarters of this year," Kaufmann said.
DHL Global Forwarding, the air and ocean freight business arm of Deutsche Post DHL, is increasing the number of block space agreements on commercial carriers to bolster its air freight capacity, said Kaufmann, who is also the company's North Asia-Pacific senior vice-president for air freight.
Air cargo demand increased 26.5 percent year-on-year in February, according to figures from the International Air Transport Association (IATA).
IATA said last month that cargo demand is expected to grow by 12 percent this year, after the 11.1 percent decline in 2009.
The strong demand and airlines' hesitance to increase capacity will result in air freight prices increases, which will lead to an expected 3.1 percent boost in cargo yields compared with a 14 percent decline in 2009, IATA said.