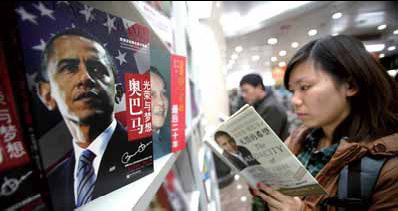 Obama-related book sales jumped on Amazon's Chinese website after the 2008 election.[Agencies]
The first African-American president in US history has swept China's book market during the past year.
Typing "Obama" in Amazon.cn, one of China's largest online bookstores, brings up 86 search results, 50 of which are Chinese books about the US president's life story, his 2008 political campaign or compilations of his speeches.
Statistics from Amazon.cn show a spurt in Obama-related book sales after the announcement of the 2008 election result. Book sales on inauguration day were more than three times higher than any other day. Zhongguancun Book Building also said it saw an about 80 percent increase in sales following Obama's election victory.
Han Manchun, editor of the Chinese translation of Obama's The Audacity of Hope, said the book sold out its first two print runs, which started last September, and the total print figure is 140,000.
Han attributes the book's success to Obama's charisma and appeal as a political leader, and the honesty and wisdom in the writing.
"I finished one-third of the book the night I got its original English edition, and knew immediately it was a book worth translating, publishing and reading," Han said.
The Chinese translation of the Obama biography, Dreams from My Father, has also been well received, with more than 100,000 copies printed since January.
Editor Huang Ying said Obama's story is inspirational, and expects the book to continue selling well. Huang described the readership as mostly high school and college students and young white-collar workers.
Ai Xiaofen, 22, said she is an Obama fan. She said she was attracted to his books because "Obama is the perfect man for all girls".
"He is handsome, and young, and most importantly achieved victory and success from humble circumstances with determined conviction and action," Ai said.
College student Tian Ran borrowed Dreams from My Father from her school library to see how Obama became what he is today.
"Obama's life is like a Hollywood blockbuster. There must be something to be learned from his story," said Tian.
While many may pick up Obama's books to learn more about his life and his realization of the "American dream", Wang Huiyao, the translator of Dreams from My Father and director-general of the Center for China and Globalization, hopes they give Chinese readers an idea of the larger picture of the world.
"Obama and the younger generation he represents has become the core of US political and social power," Wang said.
"We need to know their demands, ideas and ways of thinking, which are bound to exert profound influence on China and the world in general. That's why I recommend the book to my friends in the business and political circle," said Wang.
Tian Zhi, editor of Selected Speeches of Barack Obama, published by Nanjing-based Yilin Press, said he was enchanted when he first watched Obama speak. He compiled 14 of the president's speeches for the bilingual book, which eventually topped China's English language best-seller list.
Wang Shouren, dean of the School of Foreign Studies, Nanjing University, said Obama's speeches are powerful because of his straightforward yet expressive English, meticulous reasoning, smooth pacing and imposing vigor.
Xiao Xifan, information analyst in an American consulting company, said she tries to improve her English by memorizing Obama's speeches.
When she feels down, she said, she recites Obama's words:
"Where we are met with cynicism and doubts and those who tell us that we can't, we will respond with that timeless creed that sums up the spirit of a people: Yes, we can."