Of the sundry appeals and hopes laden upon US President Barack Obama's first state visit to China, a bestseller's bid for a preface by the president is most likely to leave the eloquent leader speechless.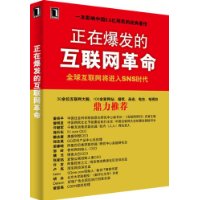 An Exploding Internet Revolution, written by Shanghai-based writer Han Yinbo and two co-authors, has no English edition but "it has an English introduction", said Han, referring to a 475-word snippet available on a promotional blog only.
"But, in fact, he (Obama) doesn't have to read (the entire book) himself. He's got a hack writer, we all know that," Han said, adding "few book recommendations are written after a full review".
Unbothered by the language barrier, the authors and the publisher China Machine Press, began building their campaign to woo the president on Sept 29 with a $10,000 award for anyone who could get an Obama preface within a year. Han is "confident their book is good enough for the credit".
An Exploding Internet Revolution, chronicling at least 16 social networking service (SNS) websites including Facebook and Kaixin.com, argues that SNS has already overpowered user-generated blogging in an era of human connection via cyberspace. Therefore anyone should be reachable more than ever, even the US president, according to Han.
The friskily-toned bestseller devotes a whole chapter to Obama, who is unwittingly named its "SNS Ambassador" due to his successful employment of web networking in fundraising and campaign organizing during the 2008 election.
Related readings:


 Obama's trip to China: will he listen?


 Obama's China trip fuels fresh hope


 China expects positive results from Obama's visit


 Rihanna joins Michelle Obama as "Women of Year"
Reception of the red-covered book, which has already sold 30,000 copies since its release in mid-September, has been nothing short of controversial.
Jiao Jianli, a deputy dean at a technology college in south China's Guangzhou, described it as a must-read and had a "find-the-writers" test in class which, ten days after, ended with scores of students' feedback on Han's computer. A blog on CSDN.net lashed out praise for the book that borders on promotion, calling for "reading it before you are no longer young".
However, some critics are less impressed, if not offended, in the case of Kong-bu-kong, a Beijing reader on Douban.com, a popular SNS website on books, film, music, etc. After five minutes' skimming-over of the book, he immediately made a "half-priced re-sale" post, adding "further discount is negotiable". A Singaporean reader on the same website, nicknamed Last Resort, said the book is "new but too void with virtually nothing concrete".
A comment by netizen MCC on the book's official blog said the whole idea is "downright hype".
Nevertheless, Han shrugged off the accusation of cooking-up hype, maintaining that it's "never a third-rate sensationalization" and some preface-wooers are already making progress.
Liu Qing, a middle-aged Beijing resident, said he forwarded the publisher's message to a friend whose Canadian relative will be a member of Obama's visiting team to China during November 15-18.
"Of course, there are obstacles. Obama has circles of tight security. You can't reach him without being intervened," Liu said, adding that even if the president were presented the book, "it still all depends".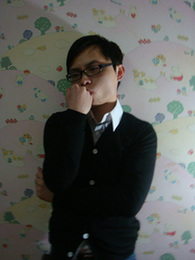 This February 2009 photo shows Han Yinbo, co-writer of An Exploding Internet Revolution, in Shanghai. [Courtesy of Han Yinbo]
Han, an IT insider, who knew little about the Internet until his college years in Wuhan, is somewhat confident. "I'm 50% sure we can make this, if only he (Obama) is willing to," Han said.
An inquiry left on the White House website went unanswered as of Tuesday.
Maverick Writer
Using a pen name, Han dumped his real name simply because of its "meaninglessness and easy escape from memory" and made up a quixotic one that bore no family trace at all, simply "Ximen" (West Gate). A zealous Nietzsche admirer and literature buff, Han also dreamed about becoming a kungfu monk and whirled a nunchaku at middle school, more for eye-catching than for body-building.
"The instrument mirrors my philosophy. Why? You may hurt yourself when playing nunchaku, unless you're bold enough to fully stretch out," Han explained.
"But, I don't fear," he said as he adjusted his black-rimmed glasses. "I dare to take risks in my causes."