NYANGOMA KOGELO, Kenya: Dressed in a flowing African "kitenge" dress with a matching head scarf and walking with the aid of a metal staff, Sarah Obama limped to a stool, under a giant tree standing in her expansive compound in a village in western Kenya.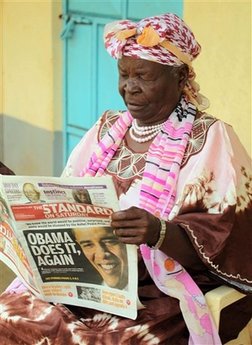 The step-grandmother of the President of the United States, Sarah Obama, reads the local daily newspaper showing the headlines Saturday, Oct. 10, 2009 at her home in Kogelo, Kisumu, Kenya. [Agencies] 
She waved to a group of barefoot school children who were singing an emotional African praise song.
"Look how beautiful she is! See how she walks with dignity! Look at her neck! Sarah is our heroine. I will hang myself if anyone would dare take Sarah away!" the children sang, with their faces shining with hope.
Sarah, the 87-year-old grandmother of US President Barak Obama, called the children by their names as they sat on the ground around her after the song and dance.
"Why do you look sad? Did someone provoke you?" Sarah asked 10-year-old orphan girl Jane Akinyi at her Kogelo village in western Kenya, some 70 km from Kisumu city.
Jane smiled as the granny assured her of protection against hunger and provocation by older orphans.
"I will ensure you eat well and attend school so that you can become the leaders of tomorrow," Sarah added.
Sarah who brought up President Obama's father, the late Barak Hussein Obama Snr, is looking after 80 orphans and a dozen widows.
The children, aged 4 to 18, are from neighboring places. Most of them lost their parents to HIV/AIDS.
"I started to look after them long ago. Some have even finished school," said the granny.
Related readings:


 Obama t-shirt is sold in Beijing


 Obama names art mentors


 Obama sibling writes about abusive father


 Obama's brother emerges in China with novel

"I am a woman who loves children. There have been cases of those children who have lost both parents but would like to continue with their education. I must take care of them," she said.
The children live with their distant relatives within the village but rely on Sarah for breakfast, lunch and dinner.
She also buys them books and pays education fees for the older orphans studying at school.
Last year, Sarah registered a foundation through which her friends and admirers could channel contribution to the orphans.
"She is the lifeline of these orphans. Without her, they would be out of school without food or clothes. They would be hopeless," said Nelson Obama, one of President Obama's cousins who works for the foundation.
When the children are not at school, they help Sarah in her garden where she grows maize and vegetables.
"The garden is the source of food they eat. It also helps them to learn how to farm and be self-reliant," said Sarah. "Whenever I sold my produce at the local market, I would use some of the proceeds to feed them as well as to cater for their education."
Kenya recently declared a national emergency due to drought and famine that have left nearly 10 million Kenyans starving. But the children under the care of Grandma Obama are kept away from hunger.
The orphans regard Sarah as a role model. "She is an inspiration to us. She gives us hope. She encourages us that with hard work, we will be one day like President Obama," said Ken Onyango, one of the orphans.
Clutching a neatly framed photograph taken with President Obama in 1987 when he visited Kenya to mourn his father who died in a road accident in 1981, Sarah said her grandson was aware of her foundation.
Sarah said President Obama was yet to give her direct help and she did not wish his grandson to extend help only to her. "He can influence the building of factories, hospitals, schools and other amenities so that Kenyan people including these orphans can find jobs."
Sarah said she had received help and donations from many well-wishers including tourists from China.
"Many Chinese people have been here. They have given donations to my foundation. I like the Chinese people although their names are difficult to pronounce," she said .
"Chinese volunteers have sent more than 100 tons of rice to me to help feed the orphan children," Sarah said.
"They have also donated clothes and blankets among other items. Like those red clothes you see them wearing were donated by the Chinese," said the granny as she pointed at some children playing in the courtyard.