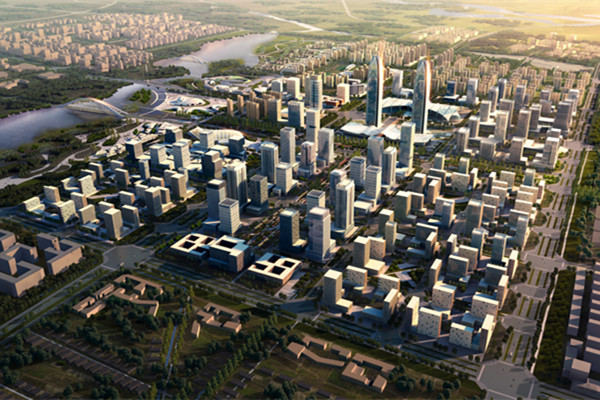 An aerial view of the Kashgar Special Economic Zone. [Photo provided to China Daily]
Xu Fenglin fell in love with Kashgar the moment he arrived in 2012. "I immediately began persuading my family to move here with me, and we are now officially residents," he said.
The 36-year-old used to work in Shenzhen, Guangdong province, a pilot city for China's reform and opening-up policy that was transformed from a fishing village to one of China's richest cities in a mere 30 years. Xu is now deputy director of the Kashgar Special Economic Zone's administrative commission.
Like Xu, 34-year-old Ye Liwei also quit a well-paid job in Shenzhen, but he came to Kashgar to work in a real estate company.
They are just two of the talents who enthusiastically gave up everything to move to China's westernmost corner, buoyed by a belief that Kashgar will become the next Shenzhen.
Located in the southwest of the Xinjiang Uygur autonomous region, Kashgar is hoping to replicate Shenzhen's success.
Shenzhen was chosen for its proximity to Hong Kong, and Kashgar connects China with five Eurasian countries, including Tajikistan, Afghanistan, Kyrgyzstan and Uzbeki-stan, via land ports. The city's strategic location has made it a crucial hub for regional trade and cultural exchanges for more than 2,000 years.
Further impetus
The Kashgar SEZ was established in 2010 with the aim of building the city as a gateway to the west and a new engine to drive Xinjiang's development. The zone covers an area of 50 square kilometers and is divided into three distinct areas for manufacturing, logistics and finance.
In 2013, the zone gained further impetus when President Xi Jinping announced an ambitious plan to build the Silk Road Economic Belt, which will connect Asian and European markets and cover more than 3 billion people. After five years under construction, the zone is finally taking shape.
One of the most impressive buildings under construction is the Kashgar Development Towers, which, at 280 meters tall, will be the highest in Xinjiang. The twin towers will host the Kashgar Hilton Hotel and a tax-free shopping mall featuring brands such as Prada, Valentino and Louis Vuitton.
Many companies from China's heartland have moved their operations to the SEZ, attracted by the preferential policies offered by local authorities.
Sycco Electronics Co, headquartered in Guangdong province, established a factory in the zone last year. Mainly manufacturing mobile phone chargers and cables, and employing 500 workers, the plant's products are exported to nearby India and Pakistan.