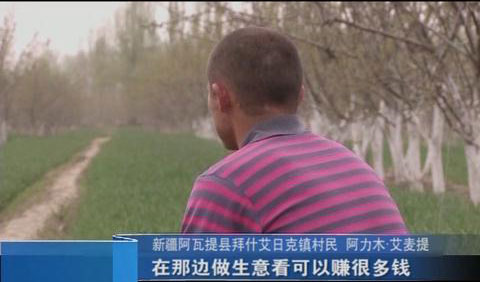 Screen shot of the video
Alim Amat was a successful businessman in Xinjiang before deciding to sell everything and smuggle his entire family to another country where they suffered under the influence of the extremist who had radicalized them.
He is 27 and like all young farmers, loves the earth and is curious about the world outside.
In 2010 he took his wife to Urumqi, capital of Xinjiang Uygur autonomous region, to start small businesses. At first he sold fruit and later started running a grain and oil ? shop after renting it thanks to some loans.
For more than a year, the business went well and Alim Amat not only paid off all debts but saved more than 20,000 yuan ($3,334). The future looked so promising that he even planned to extend his shop and build his own house.
Everything took a sudden turn in March, 2011. Ayjamal, a woman from the same village, became his new friend.
With her face permanently veiled, she claimed her husband lived abroad and kept talking about how wonderful it was. As Alim Amat had a low interest in religion, Ayjamal changed her tack to how easy it was to make money abroad. "It's like paradise," she told him.
Ayjamal's brainwashing resulted in Alim Amat becoming obsessed to go to abroad. He soon made his mind up to quit everything and stow away with his wife, daughter and Ayjamal.
The major issue they faced was money. Ayjamal persuaded Alim Amat to sell his business and his house, saying at least 40,000 yuan was needed for each person if they were to stow away.
The whole family was on its way into the unknown. "We traveled by bus, by motorcycle, by ship. Most places we passed through were wastelands and woods where there was a lack of food," Alim Amat recalled.
They suffered greatly. His wife was in huge pain from a damaged toe nail and begged him to leave her as she could not walk any more. His daughter, not even old enough to have had her first birthday, could only have breast milk and suffered hunger.
Once, about 30 stowaways were pushed into a filthy pick-up van for a whole day which had been used to carry hogs.
From one place to another, Alim Amat was asked to pay money to those who helped them again and again. He spent it all.
The family stayed in Turkey for a while but he could not find a job to support his family as they didn't have passports or legal documents. Soon, they were persuaded to go to Afghanistan to "apply for a passport".
They were arrested after just four days there and given a 17- month prison sentence before being repatriated.
Back in their own country and after investigation by police, Alim Amat has been given a second chance to live a normal life.
The community has helped him apply for a house and buy a field. Alim Amat started his new business selling dates and walnuts as police officer Azmat Amar vouched for him.
"We need to help him. If we don't, others won't." Azmat Amar said.
Now Alim Amat tries to tell as many people as possible his story to warn others: "Our mother country is the best. 'Paradise' is the place where we were born and grew up".