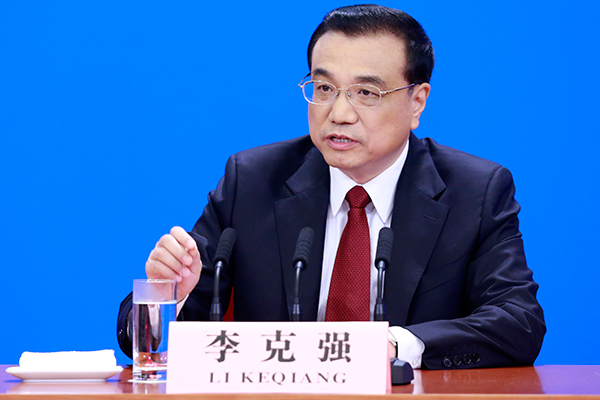 Chinese Premier Li Keqiang speaks at a press conference at the Great Hall of the People in Beijing, capital of China, March 16, 2016. [Photo/China Daily by Feng Yongbin]
The central government will try its best to solve issues concerning people's livelihoods, such as pension payments and health insurance, Premier Li Keqiang said on Wednesday.
Despite reports of sporadic cases of pension payment difficulties in some places, "there will be absolutely no problem for the government to meet the public's pension payment needs," Li said at a news conference at the end of the two sessions.
The national pension insurance reserve recorded a surplus of 340 billion yuan ($52.3 billion) last year, taking the cumulative figure to 3.4 trillion yuan since it was established in the late 1990s, according to the Ministry of Human Resources and Social Security.
Moreover, the central social security fund of 1.6 trillion yuan can serve as a strong backup for pension payments nationwide, Li said.
The central government set up the pension insurance reserve in 1998 to meet the increasing needs of retirees.
In 2014, reports that retirees could not obtain their pensions began to make headlines, with most cases occurring in Northeast China, the country's old industrial base. Many workers in this region have been laid off and enterprises closed due to restructuring reforms since the mid-1990s.
Ni Huping, a senior official in charge of pension programs at the Civil Affairs Department in Zhejiang province, said the problem occurred due to insufficient premium input in a fledgling pension insurance system. He described such a shortage of funds as "a debt left by history".
Over the past 40 years, China has also implemented a policy limiting most couples to having only one child, which has been cited as part of the reason for a rapidly aging society. This has led to many observers forecasting that the nation faces a challenge as pension payments will not be sustainable.
By the end of 2014, China had 212 million people age 60 and older, accounting for 15.5 percent of the population. The so-called gray population is expected to reach 400 million by the middle of the century.
To solve this problem, the government is considering plans for delayed retirement, with an implementation plan to be issued in 2017, Yin Weimin, the minister of human resources and social security, said at a news conference last week.
Ni suggested that other measures be taken to help ease pension payment pressure, such as making the pension system more independent and transparent and setting up a risk prevention system.
Li said he is confident the pension problem can be solved, adding that this will not be "an empty promise to ensure that the elderly are provided for".