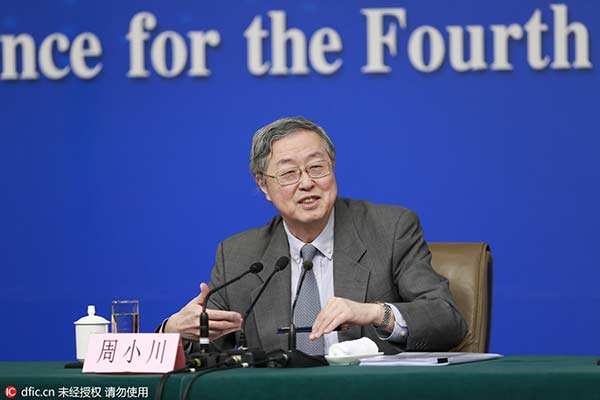 China's central bank governor Zhou Xiaochuan at a press conference on the financial reform and development on the sidelines of the fourth session of the 12th National People's Congress in Beijing, capital of China, March 12, 2016. [Photo/IC]
China will not rely on currency devaluation to boost its economy, the central bank's governor said on Saturday.
Zhou Xiaochuan, governor of the People's Bank of China, said at a news conference that China's economic growth will increasingly rely on domestic demand, and net exports will play an increasingly small role.
"Under this circumstance, it is less necessary to use devaluation to spur exports to achieve the (economic) growth target," he said.
Official data showed China's net exports in 2015 just accounted for 5.45 percent or 3.68 trillion yuan of GDP that came in at 67.7 trillion yuan.
Zhou said China could realize its growth target by adopting a "prudent" monetary policy that is in tune with the growing role of domestic demand and innovation. "No need for extra policies," he said.