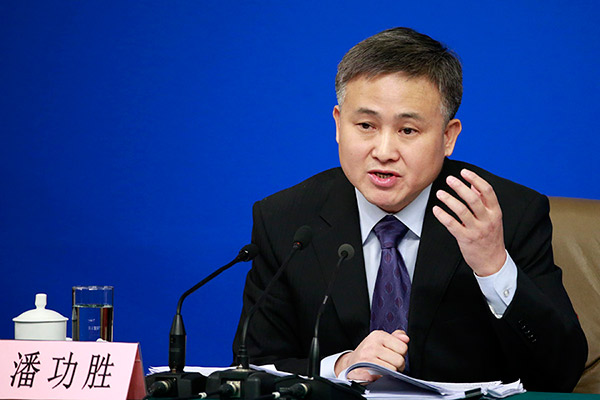 Pan Gongsheng, China's central bank vice governor and head of China's State Administration of Foreign Exchange (SAFE) at a press conference on the financial reform and development on the sidelines of the fourth session of the 12th National People's Congress in Beijing, capital of China, March 12, 2016. [Feng Yongbin/China Daily]
China's central bank said on Saturday that regulators will step up efforts to stop illegal financial activities related to the real estate sector, such as provision of loans for down payment.
Financial risks facing the real estate sector, meanwhile, remain controllable, said Pan Gongsheng, vice-governor of the People's Bank of China, at a press conference on the sidelines of the ongoing legislator and policy advisor meetings.
Home prices in big cities like Beijing, Shanghai and Shenzhen rocketed up this year. Home prices in Shenzhen, for example, have risen more than 70 percent in the past 12 months, according to the city's Urban Planning and Land and Resources Commission.
Media reports said some real estate enterprises, intermediaries and other financial platforms have engaged in illegal leverage-based business, like providing loans for those who cannot afford to pay the down payment, that has violated relevant rules and exacerbated financial risks.
"The attitude of the central bank is clear," said Pan. "Such activities have increased the leverage of home buyers, reduced the efficiency of macroeconomic regulation, and increased risks facing both the financial sector and the real estate sector."
The central bank and the departments concerned will launch a special campaign to stop such illegal financial activities, he said.
Zhou Xiaochuan, governor of the central bank, said the real estate sector faces huge de-stocking pressure. But Pan said the risks facing the sector remain under control.
He said China's real estate loans and individual mortgage loans account for about 14 percent of total loans and the non-performing loan ratio is only 0.38 percent, compared with the overall bad loan ratio of 1.7 percent.
Moreover, most estimates put the down payment ratio in China at 20 percent. But, in reality, it is often above 35 percent, as seen from the January statistics. Such a level is quite high compared with other countries, said Pan, indicating that the risks are quite low.