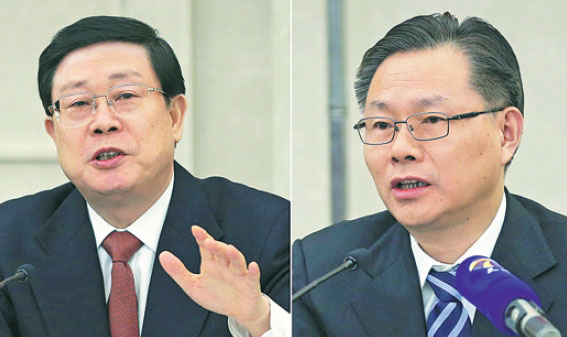 Tianjin mayor Huang Xingguo (left) and Zong Guoying, a senior official from the Binhai New Area of the city, attend a group discussion session that was open to reporters at the NPC's annual session in Beijing on Tuesday.
An environmental cleanup in Tianjin is complete following the massive blasts that hit the port last year, and new facilities will be built to improve the local surroundings, city officials said on Tuesday.
An environmental monitoring station has been established by the Ministry of Environmental Protection to scrutinize the port and surrounding areas 24 hours a day, said Zong Guoying, a National People's Congress deputy and chief of the Binhai New Area in Tianjin.
"All air pollutants are within national standards, according to statistics provided by the ministry and third-party entities," he said.
In August last year, a series of explosions tore through the port, beginning in the Ruihai Logistics Co, which was responsible for the safe handling of dangerous goods at the Dongjiang-bonded port in the area. The accident claimed the lives of 165 people and caused a direct economic loss of 6.8 billion yuan ($1.02 billion), an investigation report by the State Council revealed last month.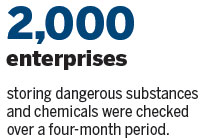 Huang Xingguo, mayor of Tianjin and also an NPC deputy, told a news conference on Tuesday that the city had checked more than 2,000 enterprises that dealt with dangerous substances and chemicals for four months after the blast.
Cards of different colors were given to these enterprises to indicate if they had to halt production and bring their operations up to standard. Blue cards meant no action was required, but yellow and red cards meant they had to immediately check their workshops and processes, Huang said.
A new park, seven kilometers long and covering a land area of 34 hectares, is currently under construction in the area and will be completed in May. A maritime park is also being built and is expected to open in December, Zong said.
In addition, a new experimental high school will be established near the port to improve the provision of educational services in the area, he said.
"We have to learn lessons from this accident and be extremely vigilant about any possible dangers like those that claimed such a large number of lives and destroyed so many imported vehicles," Huang said.