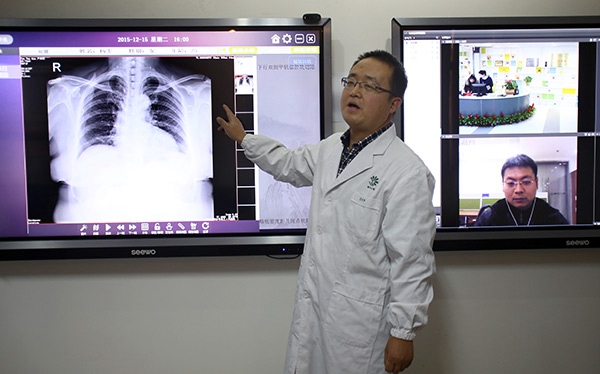 Doctor Zhao Cunzhong holds a consultation with other doctors as they look at a chest X-ray at Wuzhen Internet Hospital. [Photo by Zou Hong/China Daily]
Startups have grown rapidly with investments pouring in after favorable policies were introduced.
Despite continuously encouraging social capital to sponsor health care undertakings, exploration of the feasibility of multiple-site practices of certified practitioners was first raised in a document jointly issued by the CPC Central Committee and the State Council in March 2009.
The move gave doctors legal rights to practice in more than one place, allowing them to earn more. Many are registered on online healthcare platforms for paid consultation or private doctor service.
The most exciting trend is that building a healthy China was for the first time included in the 13th Five-Year Plan draft which is under review by the top legislature and has become a national strategy.
The huge market potential of the emerging industry caught the attention of many Internet giants in 2014, when Alibaba and Tencent joined the fierce competition.
In the January, Alibaba Group invested $170 million to acquire the license of a pilot third-party online pharmacy and electronic drug supervision code system, as well as building online medical and health provider Alihealth.
Later, in August, Chunyuyisheng.com, one of China's largest mobile medical service providers, received $50 million in investment, which it said will be used to expand patients and medical practitioners. The five-year-old company boasts 92 million active users and more than 410,000 doctors working on a part-time basis.
Tencent Holdings Ltd reacted quickly, supporting Dingxiangyuan, or dxy.cn, one of China's most popular medical and bioscience websites that is also a social media platform for medical professionals, with an investment of $70 million in September.
Just a month later in October, Tencent invested more heavily in Guahao.com with $100 million.
Data from iiMedia Research, a leading mobile Internet data analysis institution, shows that the mobile medical market size will exceed 10 billion yuan by the end of 2017.
Opportunities and challenges go hand in hand.