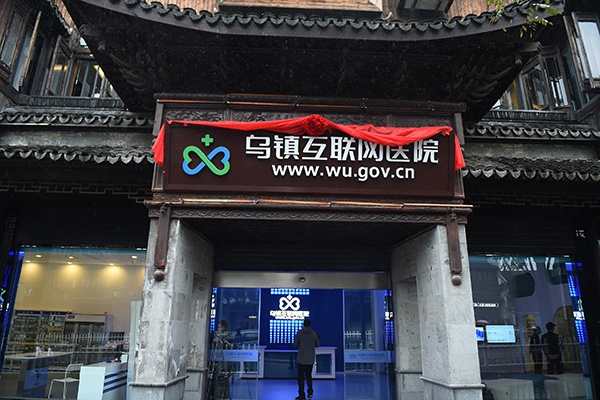 Wuzhen Internet Hospital opened in Zhejiang province during the 2nd World Internet Conference, offering online medical services. [Photo/Xinhua]
Wuzhen Internet Hospital, operated by the We Doctor Group and called We Doctor on its mobile app and Guahao.com on its website, is China's largest online hospital registration booking system, medical treatment and healthcare service platform.
As of Dec last year, five years after its founding, more than 190,000 doctors from about 1,900 cooperative key hospitals in 27 provincial regions have given 270 million consultations. Patients don't have to travel far and wait for a long time to consult a renowned expert. The platform is estimated to save 20 million working days in total.
Liao Jieyuan, CEO of the We Doctor Group, said the platform has opened an online window for bricks-and-mortar hospitals and helps balance unevenly-distributed medical resources across the country.
Medical resources in China are in short supply and their allocation extremely unbalanced with 70 percent located in cities, said Sun Yang, deputy director of the Bureau of Medical Administration, National Health and Family Planning Commission, China's health watchdog, in 2012.
Well-equipped hospitals in big cities such as Beijing attract patients nationwide, which leads to overcrowding and increases the difficulty in getting an appointment.
According to the commission, China's hospitals and clinics provided nearly 5.7 billion treatments during the first nine months of last year, an increase of 2.8 percent compared with the same period in 2014.
The rising demand for healthcare is accelerated by the aging population. By the end of 2014, the number of elderly aged above 60 had reached 212 million, accounting for 15.5 percent of the population, according to the watchdog. The number is estimated to exceed 300 million by 2025.
Coupled with the anticipated baby boom stimulated by the two-child policy, the healthcare market in China is huge.