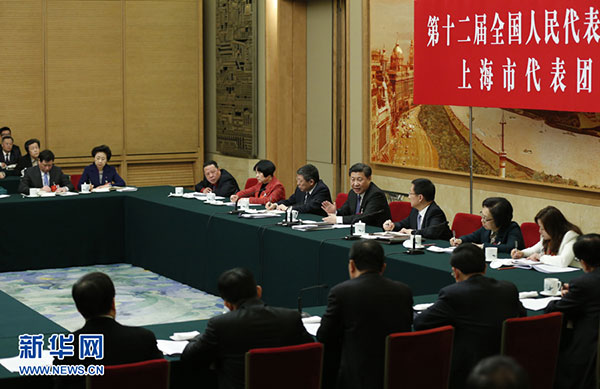 President Xi Jinping attends the panel discussion on the Government Work Report by lawmakers from the Shanghai delegation, March 5, 2016. [Photo/Xinhua]
Beijing will "resolutely curb" secessionist activities seeking "Taiwan independence" in any form, and will never let the historic tragedy of "national separation" recur, President Xi Jinping said on Saturday.
He made the remarks when attending the panel discussion on the Government Work Report by lawmakers from the Shanghai delegation.
Shanghai, China's economic hub, is home to tens of thousands of Taiwan businesspeople and their families.
It is the first time Xi has made remarks on cross-Straits relations since Tsai Ing-wen, chairwoman of Taiwan's pro-independence Democratic Progressive Party, won a leadership election on the island in January. She is scheduled to take office in May.
"Our policy toward Taiwan has been consistent and clear and will not change because of political changes in Taiwan," Xi said.
He said the 1992 Consensus, which says both Taiwan and the mainland are parts of one China, explicitly defines the nature of the cross-Straits relationship and is crucial to the stable and long-term development of cross-Straits ties.
Only by acknowledging the 1992 Consensus, and accepting its core content, can the two sides have a common political foundation and maintain healthy interactions, according to Xi.
Xi made no direct mention of Tsai.
Thepast eight years, during which time Ma Ying-jeou has served as the island's leader, have been marked by smooth exchanges between the mainland and Taiwan.
"Compatriots across the Straits are very expectant about the peaceful development of cross-Straits ties, and we should not let them down," Xi said.
Premier Li Keqiang also said in the Government Work Report on Saturday that authorities on the mainland will uphold its policies toward Taiwan, oppose separatist activities, maintain the peaceful development of crossStraits relations and safeguard peace and stability of the Taiwan Straits.
"We will strive to make progress in cross-Straits economic integration. We will encourage cultural, educational, scientific and technological exchanges and help strengthen exchanges between ordinary people and the younger generation on both sides of the Straits," he said.
He added that, guided by the conviction that people on both sides of the Straits belong to one and the same family, the mainland will share with people in Taiwan both the responsibility of the Chinese nation and opportunities for development, and jointly build a cross-Straits community of common destiny.
Zhu Songling, director of the Institute of Cross-Straits Relations at Beijing Union University, said Xi's remarks reaffirmed the mainland leadership's determination to safeguard national sovereignty and territorial integrity.
They also reflected goodwill from Xi toward the people in Taiwan, he added.
Peng Yining contributed to this story.