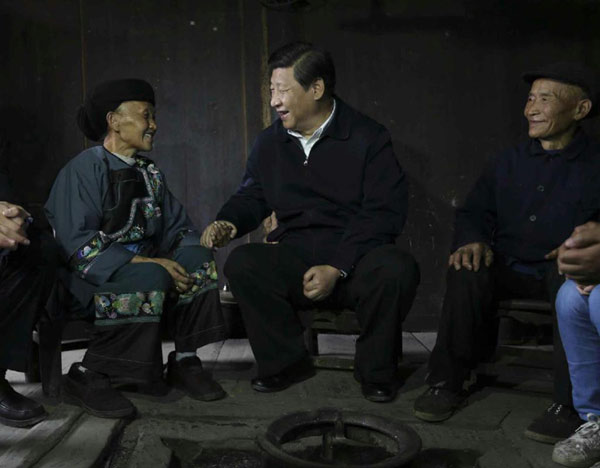 President Xi Jinping talks with villagers during his visit in Hunan province on Nov 3, 2013. [Photo/Xinhua]
President Xi Jinping visited Hunan province on Sunday to inspect poverty alleviation efforts, cnr.cn reported. The poverty-stricken Wuling Mountain area covers four provinces and 71 counties. Located in the heart of the area, the Xiangxi Tujia and Miao autonomous prefecture that Xi visited has 850,000 people living in poverty.
The president visited Changputang, a village in the county of Fenghuang in the autonomous prefecture, where most residents are from the Tujia ethnic group.
Since 1983, the village has introduced fruit such as oranges, grapefruits and kiwi fruit. The total area for growing fruit is now 110 hectares and the annual harvest is 3 million kg.
Xi tried a kiwi fruit grown in the area and said it tasted good.
The president said that developing the fruit industry requires technology and a market. He advised the villagers to keep an eye on the market, to look ahead and also encouraged them to work harder.